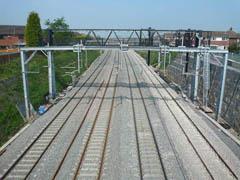 During a visit to Paris last month, Argentina's Federal Planning Minister Julio De Vido said he expected the contract to build the Buenos Aires - Córdoba high speed line to be signed with the Alstom-led Veloxia consortium by the end of April. A funding package that will see French bank Natixis lend the government US$3·9bn over 30 years was approved by the finance ministry on March 26.
Pending regulatory approval of changes to its concession agreement, Central Andino Railway of Peru is planning a US$100m investment programme divided equally between infrastructure and rolling stock to raise network freight capacity from 3 million to 9 million tonnes a year. In the short term, a connection is to be built to Lima's new wholesale market to carry agricultural traffic from the highlands.
Andean Development Corp has agreed to lend the government of Argentina US$100m towards a US$166m prog­ramme of works designed to safeguard the rail link to Paraguay from the higher waters of the River Paraná upon completion of the hydroelectric dam at Yacyretá. A new alignment over the 29 km between Posadas and Parada Leis as well as new passenger and freight facilities in Posadas are to be built by the end of 2010.
Nürnberg metro operator VAG confirmed on April 22 that it hopes to open Line U3 for revenue service on June 15. A three-month trial with the automatic train control system developed under the Rubin project was completed successfully on April 20, and the final reg­ulatory approval is expected this month.
On April 2 the government of the Dominican Republic announced plans for a PPP to fund a second and third line of the metro now nearing completion in Santo Domingo.