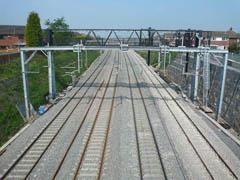 Rift Valley Railways has announced plans to invest US$206m in renovating the Kenya – Uganda railway over the next five years. Executive Chairman Brown Ondego said the money would be sourced 'through a mix of current shareholder reserves, equity, shareholders' funds and debt' following the recent restructuring of the company. A rights issue at the end of September was expected to meet overdue payments to creditors, and an equity injection of US$60m from existing shareholders is scheduled for this month.
The Canadian city of Windsor has completed a C$290 000 study into the consolidation of CP, CN and VIA Rail services onto CP's alignment to minimise disturbance caused by rail operations. A new tunnel to Detroit is priced at C$400m.
Transnet Freight Rail has confirmed plans to develop a ring line around the Gauteng region over the next 15 years, to avoid conflicts between its freight trains and suburban services in Johannesburg, Pretoria and Vereeniging. The ring could make use of existing lines from Rustenburg to Pyramid, Sentrarand, Springs and Potchefstroom, permitting the extension of 25 kV 50 Hz electrification independent of the 3 kV DC used on the suburban network.
An advisory committee formed of former Railway Board members has recommended that Indian Railways should investigate the potential for using double-deck coaches to increase capacity on its busiest routes.
Ghanaian President John Agyekum Kufuor has been promised assistance with the renovation of his country's railways by German President Horst Kohler. According to the Accra Mail, 'a team of experts is expected in the country ... to carry out feasibility studies and cost calculations and to devise steps to be taken.'
Mayor of Hsinchu City Lin Cheng-tse reached agreement with local government leaders in Hsinchu and Miaoli counties on September 1 to promote the development of a light rail line to serve the Taiwanese city by 2016. The 55 km first stage with three lines linking Hsinchu to Zhubei, Zhunan and Toufen is projected to cost around NT$44bn.
Worsening credit risk has delayed the first bond issue planned as part of the funding package for the Buenos Aires – Córdoba high speed line (RG 6.08 p345), agreed between French bank Natixis and the government of Argentina. Reportedly, the 2009 federal budget submitted to Congress on September 15 allocates only 4m pesos to the project next year for studies, compared to previous government projections that 485m pesos would be spent on tendering in 2009 and 972m pesos in 2010.
Following the derailment of a train carrying carbon dioxide in Maipú, the Security Ministry of the Argentinian province of Mendoza has warned freight concessionaire América Latina Logística that it must improve track maintenance or face legal action. The state of track in Mendoza reflected the situation 'right across the country', according to Civil Defence Director Rafael Garay; the condition of ALL's Mesopotámica network has been criticised by rail union Unión Ferroviaria and local politicians.
Japanese firm Itochu has included proposals in its 2009 investment strategy for the construction of a railway to carry coal in the Indonesian province of Central Kalimantan.
Brazilian federal development bank Bndes has invited bids to undertake feasibility studies for a railway corridor across South America connecting ports in southern and southeastern Brazil with ports in Chile. Technical studies will include analysis of route alternatives, a full demand survey and forecasts of revenue, construction and operating costs.
Ferromat SA of Argentina and Venezuela's national operator IAFE have signed a letter of intent to form a joint venture to manufacture and potentially maintain rolling stock. Components would be produced in Argentina under licence from a Brazilian manufacturer, with final assembly taking place in Venezuela.
French Transport Secretary Dominique Bussereau announced on September 15 that property acquisition for the Lyon – Torino high speed line would begin next year. 2009 should also see the French and Italian governments sign a new agreement for the project.