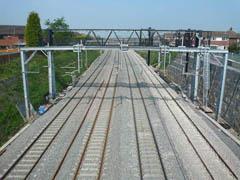 Following the start of trial operations to Cerillos using an ex-FEVE DMU, the city of Salta in Argentina has signed an agreement with the provincial and federal governments that should see up to 50m pesos invested in developing the Tren Urbano network with 17 stations. A project to restore passenger services between Tucumán and Tafí Viejo awaits the completion of track renewals, according to José Alperovich, Governor of Tucumán province.
Ukraine's Ministry of Transport & Communications has established a working group headed by Deputy Minister Vasyl Shevchenko to study options for reform of the rail industry. 'Accumulating experience from other countries, analysing the positive achievements and shortcomings of reforms by our foreign colleagues, we must create our own effective model', said Shevchenko.
KiwiRail and Auckland Regional Transport Authority are to spend NZ$5m studying routes for a NZ$1bn double-track tunnel from Britomart to Mt Eden which would convert the city centre terminus into a through station. A rail link to the airport is being considered for inclusion in Auckland Regional Council's 30-year transport strategy.
The Kenyan government is planning to build a railway from Nakuru-Kabarnet to Marich in the Pokot Central District, where Indian firm Cemtech plans to erect a US$83m cement factory. John Lonyangapuo, Permanent Secretary at the Ministry of Industrialization, said the branch would underline the area's economic potential, and open up 'untapped tourism and agricultural potential.'
African Minerals Ltd is investigating the possibility of extending the 70 km Pepel – Marampa railway in Sierra Leone by 80 km to link its iron ore concessions at Tonkolili with a planned deepwater ore loading port at Tagrin Point.
Premier Anna Bligh told the state parliament on August 19 that the government of Queensland is to retain the state's non-coal rail infrastructure. The commonwealth government declined discussions for ARTC to take ownership of the 1067 mm gauge network, and private ownership of the below-rail assets was not desirable.
By means of Decree 1039/09, the government of Argentina has approved the renegotiated Nuevo Central Argentino freight operating concession, which will see NCA pay the government 3% of turnover and invest 60m pesos in rolling stock and infrastructure over an 18-year period. NCA has also been authorised to operate passenger services, for which the government plans to spend 195m pesos on infrastructure enhancements.
In Sri Lanka geological investigations have been completed for the 27 km Matara – Beliatta first phase of a line to Kataragama to be built with Chinese assistance.