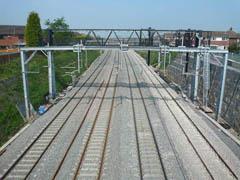 The Ministry of Transport in Jordan unveiled its railway development plan at the end of July which would see two lines totalling 1 018 km built by 2013. A north-south route would run from the Syrian border to Aqaba via Mafraq, Amman and Ma'an, whilst an east-west route would run from Mafraq to the Iraq border via Irbid and Azraq. A link with the north-south line in Saudi Arabia is also envisaged. Total cost is put at 2·9bn dinars for the infrastructure and 1·4bn for rolling stock.
Participating in a ceremony on August 4, when Iranian President Mahmud Ahmadinejad marked the start of work on a 4·1 km tunnel to carry the Tehran – Tabriz line through the capital's suburbs, RAI Managing Director Hassan Ziari said he hoped work could start soon on electrification of the Tehran – Mashhad route, which will require the purchase of 70 electric locomotives capable of 200 km/h operation.
Studies have started for a new line in Angola, running north for almost 1 000 km from Luanda through the provinces of Bengo, Uíge and Zaire. It would connect with the Chemin de Fer Congo – Océan line from Pointe Noire to Brazzaville, in the Republic of Congo, and then continue to Angola's northernmost province, Cabinda, which is physically isolated from the rest of the country. A similar project began in the 1940s under a Portuguese initiative, but only 10 km of track was laid.
The provincial government in Zhejiang announced on August 16 that it has approved construction of the planned Shanghai – Hangzhou maglev route, which will extend the existing Pudong Airport shuttle to 199·4 km. However, the start of work has been put back to 2010, with opening now envisaged in 2014, and the planned 30 km cross-city section in Shanghai to serve Hongqiao Airport has been dropped.
Eastern Cape Department of Transport in South Africa has invited expressions of interest in the supply, maintenance and operation of 'high speed inter-city passenger trains' for the re-opened Kei Rail line to Mthatha (RG 6.08 p372). The intention is to cut the journey time for the 282 km trip from 10 h to around 5 h, which is still only an average speed of 56 km/h.
An Environmental Impact Statement for a proposed 320 km passenger railway between Victorville in California and Las Vegas in Nevada is due to be completed by the end of this year, according to Victorville Mayor Terry Caldwell. Launched in 2006, the privately-promoted DesertXpress envisages 200 km/h trains operating along existing rail corridors or beside Interstate 15.