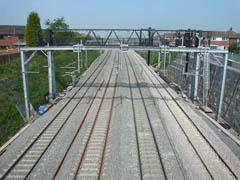 The government of Oman is to launch feasibility studies for a rail link from Duqm to Salalah via Shuwaymiyah and Thamrait, augmenting the 1000 km network now under development. Tenders have been invited for project management of the initial stages, which would connect Masquat with Sohar, Al Aïn, Duqm and Khamat Malaha on the border with UAE. Construction is expected to get underway by the end of 2012.
According to General Manager Jorge Eduardo Carrera, Ecuador Railways has completed 32% of a US$245m programme to reopen the 456 km Quito – Durán route by 2012, at a cost of $50m. Durán – Yaguachi has become the latest section to reopen to passenger traffic, primarily aimed at the tourist market.
Spanish infrastructure authority ADIF is planning to establish a railway technology centre at Málaga to undertake research and development. This would be complemented by a test circuit to be built at Bobadilla on the Málaga – Córdoba route.
Bulgarian Prime Minister Boyko Borisov has announced proposals to seek a 'strategic partner' to revitalise the country's rail network, and to apply for World Bank funding to support infrastructure manager NRIC and train operator BDZ-EAD.
Having restored regular passenger service to the Basavilbaso – Villaguay and Paraná – Concepción del Uruguay routes (RG 1.10 p25), Argentinian operator Uefer was due to start running between Paraná and Oro Verde on September 1. This would be followed by Paraná – La Picada as the first phase of reopening the route to Federal said Carlos Molina, Transport Secretary for the province of Entre Ríos.
Mozambique and Botswana have signed a memorandum of understanding to develop a deep-water port at Techobanine Point in Mozambique, served by a 1100 km railway through Zimbabwe to carry coal from Serule in Botswana at an estimated cost of US$7bn. The governments envisage that the port and railway could be built with private finance and leased to an operating concessionaire.
With funding from the Languedoc-Roussillon region and the Pyrénées-Orientales département, SNCF is undertaking a study to determine a rolling stock strategy for its metre-gauge route between Villefranche-de-Conflent and Latour-de-Carol. Now the oldest trains in regular service on the French national network, most of the existing 850 V DC third rail fleet was built between 1908 and 1912.