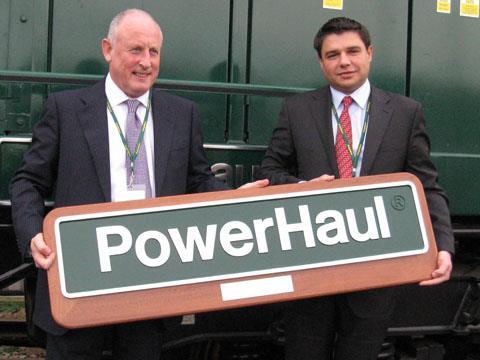 UK: Capacity is the reason a new locomotive design was ordered from GE Transportation, Freightliner Ltd Managing Director Adam Cunliffe said as the first was named 'PowerHaul' in Leeds on November 24.
The Class 70 PowerHaul locomotives will provide faster acceleration and higher running speeds than Freightliner's existing fleet. The operator hopes this will increase capacity by allowing longer trains and making more paths available.
GE Transportation is offering a version of PowerHaul to operators in mainland Europe, a market it last tried to crack in the 1990s with the Blue Tiger developed in conjunction with Adtranz. 'GE Transportation is determined to bring the most modern technologies and advanced locomotives into the UK and Europe', said CEO Lorenzo Simonelli.
Evolution
PowerHaul draws on GE Transportation's Evolution platform, a family of technologies rather than a specific locomotive.
The 16 cylinder 3 700 hp P616 engine is a new product, based on a Jenbacher design combined with knowledge and 'proven components' from the Evolution programme. The engine is 'well within' the EU stage IIIa emissions limits.
The distinctive appearance of the Class 70 front end results from the crashworthiness aspects of European Technical Specifications for Interoperability. Succeeding national standards based on energy absorbance figures, these focus on realistic impact scenarios such as hitting a lorry on a level crossing.
Aggressive and hungry
GE Transportation believes PowerHaul will be attractive to European open access operators using outdated locomotives. There are 'aggressive and hungry' private companies competing for freight in eastern Europe says Krikor Aghajanian, manager of European locomotive sales, and they could soon dominate their national markets.
According to Aghajanian these operators know they need up-to-date equipment to achieve their ambitions. Leasing deals and long-term servicing agreements will put GE Transportation's technology within their reach.
There are also opportunities for PowerHaul in the Middle East and Africa. GE Transportation sees its main strengths being in technology and support, and in December 2008 a partnership was announced under which Turkish firm Tülomsas could assemble locomotives using US-supplied kits.
Freightliner has recently entered the Australian market and is keen to exploit further opportunities. Ideas being considered include a 1 067 mm gauge version of PowerHaul for Queensland.
Read more about GE Transportation CEO Lorenzo Simonelli's vision for PowerHaul and the future of diesel traction in the January 2010 issue of Railway Gazette International.