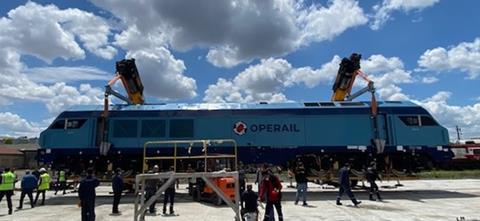 FINLAND: Wabtec announced on June 26 that the first two of nine broad gauge PowerHaul diesel locomotives had been delivered to the port of Hanko in Finland for use by the local arm of Estonian state-owned operator Operail.
The 1 524 mm gauge locomotives are being assembled at Eskişehir in Turkey by Tülomsaş, Wabtec's partner for the production of PowerHaul locos for the European, Middle Eastern and North African markets. Powered by a 16-cylinder, 3 700 hp P616 engine with common-rail fuel injection, they have AC traction motors and individual axle control. They meet EU Stage IIIa emissions and TSI standards.
Operail was granted an operating licence to enter the Finnish market in May, and national Transport & Communications Agency Traficom has approved the safety management system of its local subsidiary Operail Finland Oy. This paves the way for the first services to be launched later this year.
'The PowerHaul locomotives are heavy haul, six-axle locomotives that provide the high efficiency and reliability you need for heavy freight trains', explained Operail management board member Paul Lukka.
'The issuing of the operating licence and the certification of our safety management system are important milestones for us, and confirm that the quality of the service we'll be providing meets the highest standards required in Finland', he added. 'We're coming to the Finnish market with wide-ranging experience and we'll be offering our clients a service concept that's guided by their needs.'