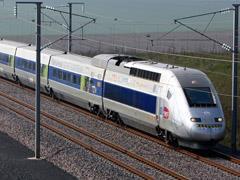 FRANCE: RFF confirmed on September 15 that it had received three bids for the PPP concession to build and maintain the 300 km Tours – Bordeaux high speed line, which is expected to reduce Paris – Bordeaux journeys to 2 h by 2016.
This is one of four high speed routes in the LGV Sud Europe Atlantique programme to serve southwest France, and RFF confirmed that the government was in discussion with the regional authorities with a view to concluding a protocol on financing all four projects. The other three lines are Bordeaux –Toulouse, Bordeaux to the Spanish border, and Poitiers – Limoges.
Preliminary bids for the PPP concession have been submitted by the three shortlisted bidders: two consortia, led by Vinci Constructions and Bouygues, and Eiffage (RG 12.07 p745). RFF expects assess the proposals and confirm the final parameters for the project before inviting tenders next spring for submission during the summer of 2009.
To speed up the process, RFF is already working on the environmental impact studies for LGV SEA in parallel with the tendering process