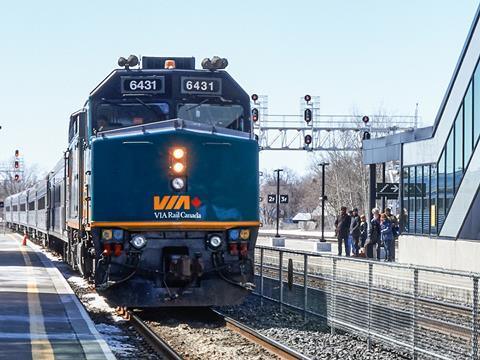 CANADA: National passenger operator VIA Rail says that private-sector backing will be needed to support an investment programme worth more than C$6bn over the next decade.
Chief Executive Yves Desjardins-Siciliano told the Terrapinn World Rail Festival conference in Amsterdam on November 13 that VIA Rail's most pressing priority is to select a supplier for fleet of push-pull trainsets to replace rolling stock on its core Québec City – Windsor route. He said that a preferred bidder would be named before the end of this year.
VIA Rail is looking to procure 32 push-pull trainsets, offering improved accessibility, Tier 4 compliant and more fuel-efficient diesel engines and the option to operate on electrified lines in the future.
Four companies have prequalified: Bombardier Transportation Canada, Siemens Canada, Stadler US and Talgo. The new trainsets are expected to enter service from 2022.
He also suggested that the province of Ontario would confirm its intent by April next year to proceed with construction of a new alignment for passenger trains between Toronto and London. While this has been referred to as a high speed line, Desjardins-Siciliano suggested that the maximum operating speed would 'not be much more than 200 km/h', reflecting a need for inter-city trains to stop at least every 100 km to serve a densely populated region. 'At present we are dependent on using freight trackage, but infrastructure in North America is fundamentally unsuited to passenger rail operations.'
He believed that some private sector funding would be needed to complete the second phase between London and Windsor. 'Canada is attractive to institutional investors because of its economic health and geopolitical stability. Canadian pension funds have already invested in rail infrastructure projects around the world.'
Desjardins-Siciliano told attendees that the national passenger operator had seen a 40% increase in ridership and revenue over the past five years, reversing a trend of declining year-on-year usage since 1992.
He attributed the company's reversal in fortunes to a change in philosophy. 'We had to become a marketing company rather than a transport operator', he said. 'Marketing is the simple premise that if you treat customers well, they will come back and travel more frequently with us. I tell our staff not to come into work if they aren't smiling.'