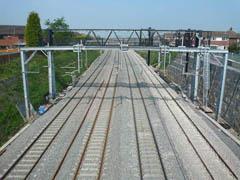 Dutch infrastructure manager ProRail is developing an adjustable version of its ANAbel level crossing audible warning system for use in urban areas. Regulations require a warning 15 dB above surrounding noise, but the sound levels required to achieve this during the day bring complaints from local inhabitants at night. The adjustable bells will be installed from 2010.
SMP Sintermetalle Prometheus has introduced a range of vibration and impact resistant low-loss chokes for rail vehicles. 'With the magnetostriction-free material developed specially for this purpose, SMP can offer chokes with an exceptionally low noise emission for use in coaches', said Technical Sales Manager Stefan Schauer.
To assist with maintenance, every escalator step maintained by London Underground is being fitted with an RFID tag made by Finnish firm Confidex and supplied through CoreRFID.
Responding to a call for tenders to supply Netherlands Railways with on-train passenger information systems, the MobiRail joint venture of Nokia Siemens Networks and Dutch telecom operator KPN has developed wi-fi technology which enables passengers to view train running information from onboard information screens via their mobile telephones while travelling.
Radio-Tech has fitted the Class 442 EMU fleet used by UK operator Southern with suspension tube bearing temperature monitoring. Readings are taken every 15 min, stored in a data logger and then uploaded to a data server at the Selhurst maintenance depot every 2 h.