Swedish freight operator Green Cargo has enshrined sustainable development as a core value, seeing profitability as the path to ensuring that the environmental benefits of moving goods by rail are not lost to society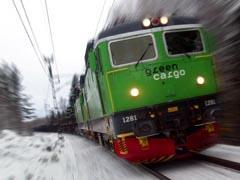 Jan Sundling, Chief Executive Officer Green Cargo AB
THROUGHOUT Europe and its political institutions, freight transport and the future of rail are hot topics for debate. This discussion is crucial, yet it often tends to be limited in scope. Sometimes environmental issues are the focus of debate, at other times rail's loss of market share on the continent of Europe predominates. Some parties are concerned about deteriorating infrastructure and the need for increased investment, while others draw attention to the loss-making nature of traditional rail freight operations.
I believe that all these issues are inter-related, and that the obvious environmental benefits of rail ought to lead the senior executives of freight companies to focus on making their operations efficient and profitable. When Green Cargo was launched in Sweden in 2001, the company chose sustainable development as a core value. But aside from continuing to provide the environmental benefits of rail, long-term sustainability also means that we must be able to make sufficient profit to cover our operating expenses and meet our investment needs. So for the environment's sake, we focused on creating an efficient, profitable operation.
Achieving profitability isn't easy in an operation that formerly enjoyed a monopoly and whose losses were met by the state. But we knew that if we were not able to turn a profit we would risk the entire future of the business, as politicians find it increasingly difficult to provide funding for rail when confronted with more pressing demands from state health, welfare, education and pension services. And we do not think that state support for transport companies belongs in today's or tomorrow's game plan. Money which society should invest in the transport sector is most beneficial when it is used to expand and modernise the infrastructure. So we are are forced to prioritise strategies that enable efficiency and profitability.
Quality focus
With over 90% of our traffic hauled by electric locomotives, our immediate focus was neither reducing emissions nor increasing our market share. Our immediate problem was service quality, and punctuality in particular. For decades rail freight has adopted an attitude to on-time arrivals best described as 'we'll get there when we get there - if not in the morning, then after lunch'. This was sharply at odds with our customers' growing need for precision transport as part of their production process or timely movement of goods as part of the supply chain.
If we had invested time and resources in further improving our environmental performance or increasing our market share, then we would have appeared unresponsive to the needs of our customers. I strongly believe that tightly focusing on customer needs and seizing every opportunity to deliver increased customer value is the only way to achieve long-term sustainability.
Our quality system took centre stage. All delays were carefully recorded and analysed, as were all our operating processes. Punctuality issues were brought to the attention of all our staff, including drivers and yard personnel at the sharp end of the business. Reports had to be promptly issued when trains were ready to depart, when they arrived at their destination and when wagons were delivered to customers. Data from these reports was summarised in weekly and monthly bulletins issued to all employees.
The reports provided a clear signal throughout the entire organisation that punctuality is our priority. We tell our employees repeatedly and in different ways that punctuality is our most important issue, but we never compromise safety to achieve punctuality.
Each month we report our punctuality and safety statistics as well as financial results for the entire company, broken down to local levels. We publish this information on our intranet and in our staff magazine. Safety and punctuality are also standing items on meeting agendas from group executive level to site meetings with employees in the yards and locomotive depots.
The reports also highlight issues that need to be addressed if punctuality is to be improved. Services that consistently run late are scrutinised to see if the schedule itself is to blame or if the customer has loaded a consignment late. Once the root cause has been identified, we take swift remedial action and the results are plain to see.
Our punctuality today is better than ever before and compares favourably with other modes. We are now regularly achieving 95% punctuality in Sweden, defined as delivery to the customer within 1h of schedule, and we are determined to achieve our long-term goal of achieving at least 95% on a sustainable basis. Our customers expect no less. At the same time, incident reports are at an all-time low, and costs incurred due to accidents have fallen by 50% since 2001.
Profitability and competition
It is entirely fitting that as Sweden celebrates 150 years of railways in 2006, Green Cargo has been able to report that its freight operations are in sound financial health. We made a historic breakthrough when we reported our first profit of SKr43m in 2004. This increased to SKr134m in 2005 and the positive trend has continued into 2006.
This is of course a great source of satisfaction to Green Cargo staff at all levels, but also to our customers as we have fostered genuine on-rail competition in Sweden by demonstrating that freight is profitable. The domestic market was opened up to competition as long ago as 1996, but the private sector has only gained an appetite for investment since we have proved that there is money to be made. Shippers now have a variety of freight operators to choose from, and never before have such high volumes of steel, paper, fuel and chemical products moved by rail, as well as new cars and consumer products.
The increases in both traffic and profitability have been driven by our quality system, as running trains behind schedule is not good for our bottom line. Our efficiency and quality improvements have sent the right signals to the Swedish government, which has committed to invest over SKr93bn in the railway network over the coming years. Our hard work has paid off as it has made politicians more receptive to our desire to increase capacity on the network and eliminate bottlenecks.
But striving for sustainable development within the transport sector isn't just about taking responsibility for profitability, customer value and the environment. We also take responsibility for our employees, because Green Cargo must be a safe workplace that encourages professional development. We have installed alcohol locks in all our road vehicles, which prevent the engine being started if the level of alcohol in the driver's breath sample exceeds the legal limit. This has led to new business from customers whose consignments must be moved in the safest possible conditions, and we have also worked with our drivers to help reduce alcohol abuse.
Naturally, our road drivers are required to obey the speed limit and this limits fuel consumption, which is good for our bottom line and the environment. The same benefits have accrued from initiatives to cut energy consumption within our warehousing operations. On rail we have decided to install alcohol locks on our locomotives and have started projects to encourage eco-friendly driving techniques for diesel traction to reduce emissions.
Good communications between employees and their managers are vital to the success of any business. Setting clear objectives and providing meaningful feedback to employees enables Green Cargo to perform better and improves employee morale. For the fourth consecutive year we have reduced the amount of sick leave taken by employees, benefiting both our people and our profitability. Our strategy of investing in a sustainable manner in the planet, our people and our profitability makes it easier to recruit talented logistics professionals, as young people increasingly look to work in an operation that has values. This will become increasingly important to companies that wish to maintain their competitive position in the future.
Co-operation is the key
Looking ahead, there are two key issues which I feel will be of vital importance to the future of European rail freight. Firstly, I believe that rail operators must co-operate even more closely with other modes, particularly road. Poor collaboration between train and truck means that the opportunities afforded by rail cannot be used to their best advantage. Rail traffic can only grow to the degree that customers without their own rail connection are effectively served by road for final delivery.
Door-to-door logistics solutions must also be provided across national boundaries, and I believe that rail freight must improve its international product offering. One step we have taken in this direction was to sign a co-operation agreement with German Railway in October 2005 (RG 12.05 p756). We are now working together on several projects and are actively co-operating with each other at different levels within the two companies. We are already testing an improved service to move steel from Sweden to terminals in France, Germany and Italy, and when the required service quality has been achieved we will market these products with our partners in these countries.
In forming international partnerships, improving customer focus and punctuality while creating efficient logistics systems can be a challenge for traditional rail freight operators. New entrants to the market are making headway, but if rail is to regain its lost market share in Europe the larger national operators must raise their game when it comes to service quality and profitability. Technical barriers certainly do exist at the borders, but they can be managed. Now it's time to tackle the mental barriers.