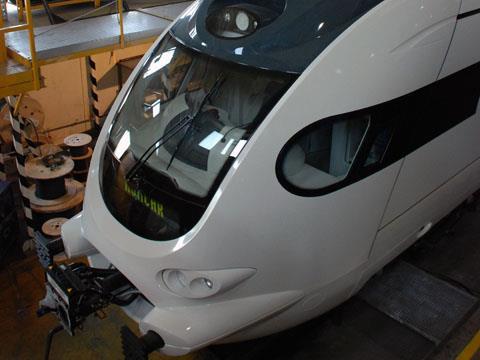 CROATIA: A prototype electric multiple-unit developed by Koncar and ordered by Bosnian railway ZFBH was displayed to members of the Croatian government at the manufacturer's Zagreb plant on September 28.
The 25 kV 50 Hz EMU is intended for inter-city and regional services at up to 160 km/h. It has two classes plus a buffet area, with 24 first class seats arranged 1+2 and 152 second class seats arranged 2+2, including nine tip-up seats. The floor height is 600 mm, and one of the two vacuum toilets is fully accessible.
The four-car articulated unit is 75 m long, with the outer bogies powered by four 500 kW motors.
In June 2008 ZFBH placed a €5·3m order for the prototype unit, using loans provided by Croatian banks. As well as offering the design in the regional trains market, Koncar is hoping to interest Croatian national railway HZ in a single class version for Zagreb suburban services.
It is the first heavy rail vehicle developed in Croatia since the JZ Class 442 (HZ Class 1142) electric locomotives of the early 1980s. Koncar first announced plans for the EMU when it launched the TMK2200 tram developed in co-operation with TZV Gredelj through the Crotram consortium. The EMU was also to have been a collaborative project, but TZV Gredelj decided to develop its own design with Siemens.
As a result Koncar has developed the unit independently, though parts of the car bodies were produced by the Cakovec railway workshop.