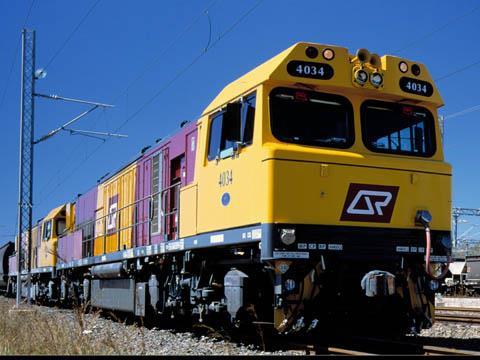 AUSTRALIA: Detailed plans for the break-up and partial privatisation of QR were announced on December 8 by Queenland's state Premier Anna Bligh.
The coal and general freight business, including some network infrastructure, is to be floated on the Australian stock market at the end of 2010. The new company will adopt the QR National brand used for QR's competitive rail freight activities outside the state.
'QR's coal and freight businesses have a proud history of more than 140 years. Now is the time for a brand new era for a true Queensland champion', said Bligh, adding that QR National is set to be a 'top 50 ASX company and Australia's biggest coal transport and freight business'.
QR Chairman John Prescott welcomed the announcement. 'This is a decision for government, but one that makes sense', he said, adding that 'we are Australia's largest rail operator with high quality assets and world-class talent and expertise'. CEO Lance Hockridge said 'the reality is that around the world, the most vibrant and successful freight railways are privately owned and vertically integrated'.
Bligh pointed out that the flotation would give Queenslanders the chance to buy a stake in the 'new-look, publicly-floated, nationally-focused transport giant. Through their investment, they will get the opportunity to watch this business grow into a truly national and international company.' Existing QR staff will be allocated free shares valued at A$1 000 each, and be given the opportunity to purchase an additional A$4 000 in shares at a discounted rate.
State Treasurer Andrew Fraser said the government would initially retain a 25% to 40% shareholding, offering the new entity 'short to medium term stability'. However, he added that 'it is not our intention to remain a shareholder in the longer term. It is not the government's role to own and operate coal businesses. Instead of putting money towards new coal trains, the government can better focus on its key role delivering social infrastructure and services for the public – like schools and hospitals. It is the government's view that the private sector is better placed to take on the expense and risk of running these commercial businesses.'
The government intends to retain QR's passenger services in public ownership, establishing a new state-owned corporation, which will 'be entirely focused on delivering the public transport system Queenslanders need' and 'will also hold the balance of the network.' To be headquartered in the Brisbane suburb of Ipswich, the new Queensland Rail is to be set up by June 2010.
The premier also confirmed that three other state-owned assets would be leased progressively from next year. A 99-year lease on the Port of Brisbane will be offered to the market in mid-2010, and a similar lease for the coal port at Abbot Point will be offered in December 2010. A 50-year franchise to run Queensland's motorway network will go to market in mid 2011. Bids for state-owned Forestry Plantations Queensland were invited on November 26, with the sale of the timber business to be completed by June.