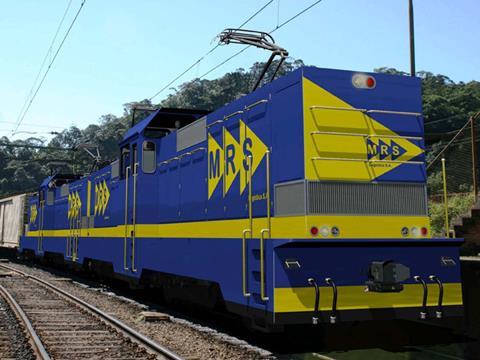 BRAZIL: Stadler Rail is to supply MRS Logística with what the manufacturer claims will be the most powerful rack-and-pinion locomotives ever built. The 5 MW locomotives will haul freight trains on the 9 km steeply-graded section of the 1 600 mm gauge line from São Paulo to the port of Santos which is electrified at 3 kV DC.
An initial seven of the four-axle locomotives will be built at Stadler's Bussnang plant in Switzerland for delivery in 2012-13 at a cost of SFr60m, and MRS Logística has an option for a further three.
The locomotives will work in pairs to haul trains of up to 750 tonnes on the 10·4% incline. This currently uses locomotives supplied by Hitachi when the railway was electrified and the hill section converted from cable haulage to the Abt rack system in the 1970s. The rest of the line now uses diesel traction, but electrification has been retained for the rack section.
Each bogie will have two rack drive units, as well as separate adhesion traction motors which will account for 25% of total power rating. The new locomotives will be equipped for regenerative braking, which expected to provide a significant reduction in energy consumption.
Last year Stadler announced four orders totalling SFr200m for rack-and-pinion rail vehicles, including a SFr141m contract to supply 10 electric multiple-units for Switzerland's Zentralbahn.