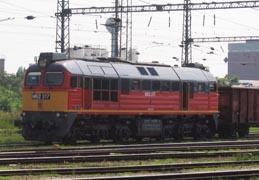 HUNGARY: The European Commission announced on November 25 that it had cleared Rail Cargo Austria's plans to acquire MÁV Cargo, subject to a commitment that the ÖBB Holding subsidiary will cut its links with cross-border operator GySEV.
Hungary's Ministry of Economy & Transport put the state railway's freight division up for sale in May 2007, and announced on November 27 2007 that a consortium of Rail Cargo Austria and GySEV had submitted the best bid.
A sale agreement was signed on January 2 2008, but the European Commission subsequently found that the original proposal would have removed the closest potential competitor for RCA in the Hungarian rail freight market and for MÁV Cargo in Austria. Despite the liberalisation of rail freight last year, the European Commission found that these markets 'are still characterised by limited competition and strong incumbents co-operating for cross-border rail freight transport.'
As a result, RCA has committed to dissolving the consortium with GySEV, ending Speditions Holding's interests in GySEV, and changing the structures of its freight forwarding companies.
The Austrian and Hungarian governments are the main shareholders of GySEV, and are now required to ensure that it is strengthened as an independent player and a competitor to the new entity to be created by the RCA/MÁV Cargo merger. The sale is now expected to be completed during December.