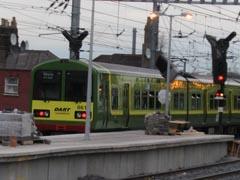 IRELAND: Virtually all major railway projects were spared from even modest cutbacks in the 2009 budget unveiled by the Irish government last month, although this imposed extra taxes worth €2bn and introduced big cuts in many other areas of public sector expenditure because of the global financial crisis.
Admitting that 'projects like Metro North and the DART interconnector tunnel in Dublin' were 'huge projects moneywise', Transport Minister Noel Dempsey said on October 14 that they were also 'huge projects for sustainable transport for the future'. He added that the €3·6bn allocated for transport in the budget underlined the Irish government's commitment to investing in key transport infrastructure.
Tenders from the four consortia bidding for the Metro North project are due on February 6, and advance works, including the purchase of property for the station sites, will continue. However, doubts have been expressed as to whether the orbital Metro West linking Tallaght to Metro North will proceed.
Two Luas light rail projects are currently underway in Dublin: the Red Line extension from Connolly to Docklands is due to be ready next year, and the extension of the Green Line to Cherrywood is to be completed in mid-2010. The Red Line branch to Citywest will still go ahead, although construction is not due to start until next year. Railway Procurement Agency announced recently that it expects to build a Luas line from central Dublin to Lucan by 2013.
Restoration of the Cork – Midleton line is proceeding apace, and this line is scheduled to reopen for commuter services in mid-2009.
The first section of the restored Western Rail Corridor from Ennis to Athenry will also be completed early next year, with new commuter services from Athenry to Galway to be launched in 2009. Dempsey said the government was committed to reviving the whole corridor. Planning will continue for the sections from Athenry to Tuam and Claremorris, which are scheduled for completion 2011 and 2014. The government says it will retain the long-disused route from Claremorris to Sligo, although there are no detailed plans for its restoration.
Other projects that will continue include the quadrupling from Heuston to Kildare, which is due for completion in spring 2010, and the first phase of the Dublin – Navan reopening, also due to be ready in 2010.