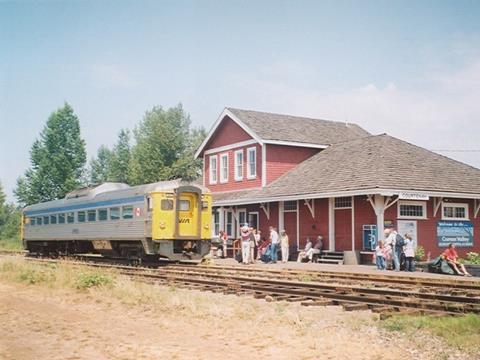 VIA Rail, Island Corridor Foundation and Southern Railway of Vancouver Island have signed an agreement to revive Victoria – Courtenay passenger services which ceased in 2011. Funding of C$21m for infrastructure rehabilitation has been identified.
The Blue Ridge Southern Railroad subsidiary of Watco Transportation Services is to purchase three Norfolk Southern branch lines in North Carolina which feed into its Asheville terminal, a total of 150 track-km
DSB is to commission an independent investigation into whether further spending to bring the AnsaldoBreda IC4 DMUs up to its required operational standard is economically justifiable, in the light of electrification plans and after a study by DB Systemtechnik questioned component quality.
Indian Railways is to test the use of roof-mounted solar panels to power on-train lighting in passenger coaches.
China Railway Corp announced the start of construction of the 343 km Harbin – Jiamusi line on June 30.
PT KAI has been awarded a 30-year concession to build a Rp2·5tr rail link to Jakarta's Soekarno-Hatta airport. Around 12 km of new alignment will be needed, and tenders will be called for the operation of airport express services. Opening is envisaged for 2019.
More than 30 freight operators participated in the inaugural general assembly of UIC's Agreement Concerning the Technical Transfer Inspection Upon the Exchange of Wagons (ATTI) group during June, agreeing to apply shared principles and rules for planning, quality and safety on specified trains.