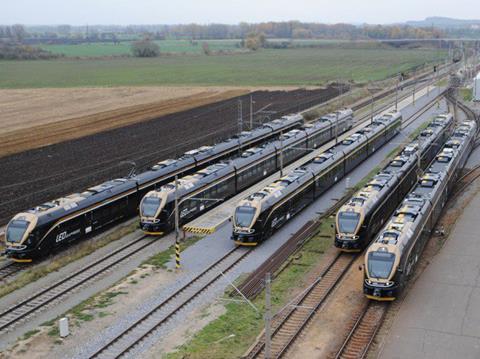 Following an unsuccessful attempt to enter the Polish rail market in 2013, Czech open access passenger operator Leo Express has launched a daily Bohumín – Kraków bus connecting with its Praha – Bohumín trains and offering a similar level of comfort including wi-fi, drinks and newspapers.
Work is underway on a station to serve Jakarta Soekarno-Hatta airport by December 2015. It will be served by a 7 km branch from the Jabotabek commuter network, and is expected to carry a commuter service as well as a premium shuttle from 2018.
The Thello joint venture of Transdev and Trenitalia operated its first Marseille – Milano open access service on December 15, departing at 15.30 to arrive in Milano at 22.50. Thello is to introduce two daily Nice – Milano trains on April 12.
CSX has opened a US$110m intermodal terminal at Salaberry-de-Valleyfield near Montréal.
VIA Rail has signed its first airline partnership, enabling Chinese carrier Hainan Airlines' ticket offices and travel agencies to combine air and rail segments into a single electronic ticket with boarding passes for both the flight and train segments.
South Tirol has awarded Trenitalia a new €36m/year contract to operate local services totalling 2·7 million train-km/year to 2024. Seven Stadler Flirt EMUs are to be delivered by June 2017.
The European Commission has approved a German scheme giving train operators a reduction in a surcharge applied to electricity use to support renewable generation. The EC found that the reduction compensates for the opportunity costs arising from using rail rather than more polluting modes.
On November 18 the European Commission adopted revised TSIs covering accessibility, tunnel safety, locomotives and passenger rolling stock, energy and infrastructure subsystems.
On November 27 the presidents of Togo and Ghana inaugurated a US$8m cross-border railway to link a Diamond Cement plant at Aflao with the adjacent Togo network.