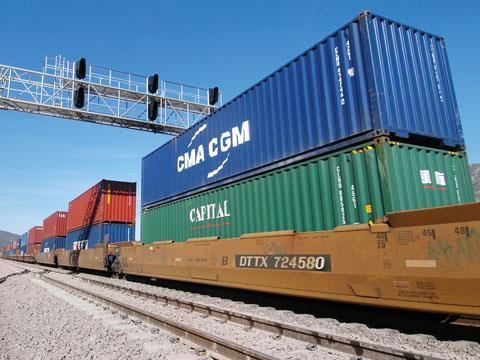 US customer group Consumers United for Rail Equality has been relaunched as Freight Rail Customer Alliance, with a wider remit to lobby government for 'competitive freight rail service and fair prices.'
After a 10 year gap, Bulgaria's BDZ reintroduced dining cars on September 7. The initial service is on train 2601 Sofia - Varna and 2602 return, and the Burgas route may follow.
The US Federal Railroad Administration has invited applications for $10m in grant funding to improve level crossings on routes carrying crude oil, ethanol and other energy traffic.
Indian Railways has converted the 122 km Loharu - Sikar line to broad gauge at a cost of Rs2·6bn.
Forwarding company OT Logistics has bought rail freight operator Landkol, which specialises in aggregate, coal and oil traffic. OT Logistics plans to expand into the intermodal market.
On September 1 RENFE suburban services began calling at the new €32m station at Soto del Henares on the route from Madrid to Alcalá de Henares. A station at Mirasierra on the Madrid suburban network is due to open in November.
On September 15 RZD International officially completed renewal of the 18·5 km Sopot Kosmajski - Kovaevac section of Corridor X in Serbia, raising the line speed from 30 to 120 km/h.
Poland's Przewozy Regionalne is to undertake a 71·5m złoty modernisation of 15 depots, supported by 42·5m złoty from the EU.