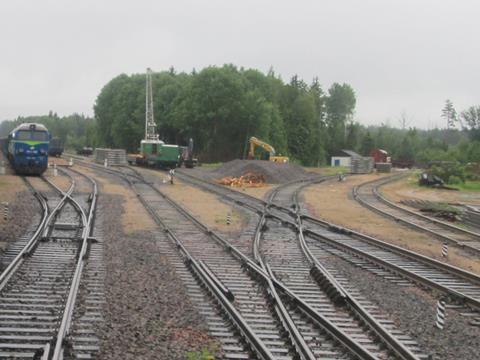 PKP Cargo has obtained certification to operate on the standard gauge line from the Polish border to the Šeštokai transhipment facility a short distance inside Lithuania.
FS subsidiary Terminali Italia and Interporto Bologna have established a joint venture to provide all intermodal terminal operating and last-mile services in Bologna and Parma (Castelguelfo).
With effect from July 29 VIA Rail's thrice-weekly Sudbury – White River passenger service in Ontario is being operated using VIA Rail crews. This replaces an arrangement where Canadian Pacific provided crews under contract.
Afghanistan has become the 28th member of OSJD.
The government of Argentina has signed an agreement covering a 120m pesos investment programme to improve rail access via the Belgrano network to the ports of Olivero and Timbúes in the province of Santa Fe. As well as a new yard and longer tracks that would enable bulk cargoes to be unloaded without splitting trains, the package includes level crossing improvements and studies to replace others with overbridges.
Auckland Transport has dropped the proposed underground Newton station from the City Rail Link project (RG 11.09 p44) in favour of redeveloping Mt Eden station, which is expected to save NZ$150m.
Sachsen-Anhalt transport authority Nasa has extended Veolia's contract to operate Harz-Elbe-Express services by one year to December 2018, aligning the end point with that of other contracts to permit a reconfiguration during retendering. Ostdeutsche Eisenbahn has been selected to operate Stendal – Rathenow services for three years from December 2015 .
Macquarie European Infrastructure Fund has sold its stake in Arlanda Express airport rail link operator A-Train AB to the Portare Acquisition consortium, which comprises Australian pension funds State Super and Sunsuper and China's State Administration of Foreign Exchange.