LOGISTICS: Freight forwarders and 3PL providers want to make greater use of rail. But until the industry develops an international perspective to match the level of service offered by competing modes, its potential will remain unfulfilled.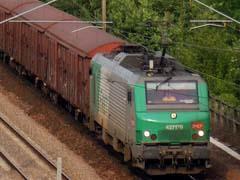 'Currently we use rail for less than 10% of our services, but we want and need to use it more.' This is the stark message to the rail freight sector from Marco Sorgetti, Director-General of Clecat, the trade association for the European freight forwarding and logistics industry.
Speaking at the CEE Rail conference in Budapest, Sorgetti saw himself as 'a critical friend' of the rail industry. He outlined the importance of the logistics sector to the European economy - it accounts for 14% of EU GDP, according to a recent European Commission assessment. 'But our members never, ever ask for any public investment,' Sorgetti insisted, despite the expense of building and maintaining warehouses and IT systems.
'We think there is still insufficient competition on rail,' he continued, suggesting that this would incentivise staff to take greater pride in the service they provide. 'Rail operators too often waste time explaining why something didn't happen rather than working to make it happen.' He felt that punctuality was only part of the problem, 'our members are sufficiently flexible on price if the service delivery is right.'
Clecat is disappointed with the slow progress in increasing rail's share of the logistics market, despite a number of co-operation agreements signed in recent years.
A lack of common international standards hampers logistics providers' ability to choose rail. Sorgetti suggested that the industry should at least agree on a common definition of 'on time' and 'late'.
Infrastructure for freight traffic is a more pressing concern for rail operators than road hauliers. Sorgetti argued that the rail industry could seek his members' assistance to push for investment in freight corridors and terminals. 'We are prepared to invest if it makes sense for us in the logistics sector and also for rail operators - but it must be a long-term partnership arrangement, perhaps for 10 years or so.'
A more competitive rail market is unlikely to emerge without a greater focus on interoperability. Clecat would like to see the acceleration of ERTMS deployment to create a cross-border freight network which would give rail 'a continent-wide viewpoint'. Sorgetti believed that the dominant position of incumbent operators in many member states was hindering this process. 'Too often the customer has a choice of just one operator when looking to rail - and that is no choice at all.'
The power of the incumbent has also contributed to a perceived resistance to quality clauses in contracts, which contributes to a lack of confidence among forwarders - 'quality charters are still viewed as a burden by some rail operators.'
In addition, there is frustration that despite years of talk about re-organisation and reform, the future of wagonload traffic remains in doubt. 'Wagonload could account for 50% of the intermodal market, so when will operators embrace it?' Sorgetti asked.
He also urged freight operators to 'know their cargo and spend time in warehouses'. Comparing the block train needs of the steel industry with the just-in-time requirements of a shoe factory, he told the audience that 'if you don't know what works for a private siding and what works for an intermodal terminal, you're wasting your time and money'.
Greater use of the 'authorised applicant' model could encourage greater rail use. If shippers were able to reserve paths for services operated under contract, this may initially prove a more bureaucratic route than dealing directly with existing operators, but it could help to provide a more robust service for logistics customers.
Sorgetti was concerned about whether the right issues were being prioritised to encourage greater use of rail. The internalisation of external road costs through the Eurovignette revisions could be counter-productive, he felt, as could the campaign against larger trucks. 'In the future we are going to need rail and other modes because road capacity is being steadily eaten up. Clecat is not opposed to charging, provided the proceeds are invested in transport. But there must be a balance - it is not realistic to invest 80% of the funds in rail alone.' Larger trucks could even facilitate transhipment because they are closer in payload to a rail wagon.
'Time and again we find ourselves problem-solving, but fundamentally, we are not looking for problems to solve. This is not how we make money', Sorgetti concluded.
Marco Sorgetti is Director General of Clecat, the European Association of Logistics Providers, Freight Forwarders & Customs Agents. Educated at the University of Torino, he has worked in the freight forwarding sector for more than 20 years and has represented a number of related trade associations in Italy. He became Director General of Clecat in 2003.