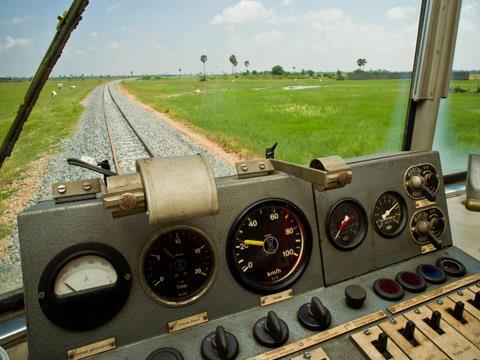 CAMBODIA: Rehabilitation of the run-down and war-damaged railway network reached a milestone when the initial section was officially reopened on October 22.
The first cement traffic was carried in early October on a 117 km stretch between Phnom Penh and Touk Meas, and passenger services are planned for the future.
Rehabilitation of the entire 254 km South Line from Phnom Penh to the port of Sihanoukville will be finished in May 2011, with at least one train a day. Work will begin shortly on the 388 km North Line between Phnom Penh, Poipet and Aranyaprathet in Thailand, with completion scheduled for 2013.
This will leave Cambodia to Vietnam as the missing link between the metre-gauge southeast Asian rail networks. An agreement has been signed to build the connection, and China Railway Group is designing a 255 km line from Bat Doeng near Phnom Penh to the border near Loc Ninh, where it would meet a proposed 128 km line to Ho Chin Minh City. The link could be completed in 2015.
'Infrastructure bottlenecks have been holding back Cambodia's development', according to Asian Development Bank Country Director Putu Kamayana. 'The country and the region urgently need better railway networks as well as road, air and water transport networks to fully unleash their economic capacity'.
The rehabilitation project was launched in 2006 and is being funded by ADB (US$84m), Australia (US$21·5m), Cambodia (US$20·3m), OPEC Fund for International Development (US$13m) and $2·8m in kind from Malaysia. Toll Holdings has a 55% stake in a consortium with The Royal Group which has a 30-year operating and maintenance contract signed in June 2009.
Revitalisation will bring to an end one of the more unusual forms of open access rail service, the 'bamboo trains'. These home-made vehicles with wooden frames supporting bamboo mats and powered by water pump engines transport freight such as fruit, vegetables and rice, and according to ADB the largest vehicles can carry up to 36 people. Speeds of 25 km/h are reached, and when two meet head on, the one with the lightest load is disassembled to let the other pass. The operators will be compensated to maintain their earnings and support a transition to road transport.

Plans for a Trans-Asean network connecting the metre-gauge lines in southeast Asia are analysed in the November 2010 issue of Railway Gazette International.