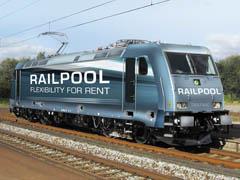 EUROPE: The Railpool joint venture of HSH Nordbank and KfW-IPEX Bank has placed its first order for locomotives.
On September 22 Bombardier announced that it had signed two contracts to supply the leasing firm with a total of 58 Traxx locomotives worth €192m. Deliveries will begin in August 2009, and the agreement includes an option for a further 80 locomotives.
Railpool plans to deploy the locomotives in seven European countries. Christoph Katzensteiner, Managing Director of Railpool, said 'Bombardier is a partner with which we can get fast access to the European leasing market.'
When Railpool was founded in July, Michiel Munting of HSH Nordbank said a speculative order of locomotives could help the new firm to gain a foothold with franchised passenger operators and open-access freight companies. Railpool is aiming to create a 'one stop shop', with wet-leased locos maintained at a network of approved depots to minimise downtime. A portfolio of assets worth up to €500m is foreseen within three to five years.
Bombardier has now sold more than 1 300 locos from the Traxx family. The locomotives ordered from Bombardier will be assembled at Kassel, using bodies produced at Wroclaw, bogies from Siegen and Mitrac propulsion and control equipment from Hennigsdorf and Mannheim.