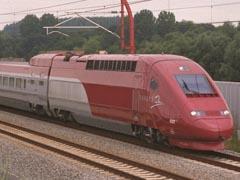 A DRIVE to position rail as the natural mode for international travel across Europe came on July 2, when the Railteam alliance of high speed train operators was launched in Brussels.
A year of detailed negotiations has shaped the Railteam concept since a provisional accord was signed last year (RG 10.06 p659). With Europe's high speed network expected to grow from around 5 000 km to more than 15 000 km by 2020, the operators believe the time is right to present international rail travel as 'a real alternative' to air or the car in an era of growing environmental awareness. The Railteam partners predict that international travel by high speed train will reach 25 million passenger-journeys a year by 2020.
As well as the current four high speed operators DB AG, Eurostar UK, SNCB and SNCF, the founding partners include NS Hispeed, whose plans hinge on the delayed completion of HSL-Zuid, ÖBB of Austria, where the Railjet concept is steadily taking shape, and SBB. The international joint venture passenger operators Thalys (SNCF-SNCB-DB), Lyria (SNCF-SBB) and Alleo (SNCF-DB) are associate members. Eurostar CEO Richard Brown said other high speed operators would be welcome to join the alliance if they met the membership criteria.
Asked about competition issues, DB Board Member for Passenger Services Karl-Friedrich Rausch confirmed that Railteam has kept DG COMP and DG TREN fully informed, and has 'good backing' from the European Commission. Railteam sees itself as comparable to the airline alliances such as OneWorld or Star Alliance, where members co-operate on sales and marketing but compete in terms of service delivery.
Railteam's first projects include the creation of five interchange hubs at Brussels, Köln, Lille, Frankfurt and Stuttgart with dedicated multi-lingual information centres and lounges accessible by members of any partner's frequent traveller programme. Other hubs may follow. The 'hop' facility will allow passengers who miss a connection to continue on the next available train regardless of operator, without the need to re-book or change reservations.
To be developed over the next 18 months the Railteam Broker will provide an online ticket distribution system where travellers can 'find an attractive combination of prices, make a reservation, pay and receive their ticket in one transaction'. Intended to overcome the fragmentation of international ticketing that has developed with the introduction of market pricing, it is intended to work for any combination of origin and destination. But the inclusion of connecting services beyond the high speed network will make the Broker an order of magnitude more complex than most airline booking systems.
SNCF CEO Guillaume Pepy summed up the vision by explaining that Railteam's goal is 'to position the train as the natural choice for every European business journey under 4 h and every leisure journey under 6 h.'