RAILTEX: We present a selection of news and products from the Railtex 99 exhibition held in London on November 30 - December 2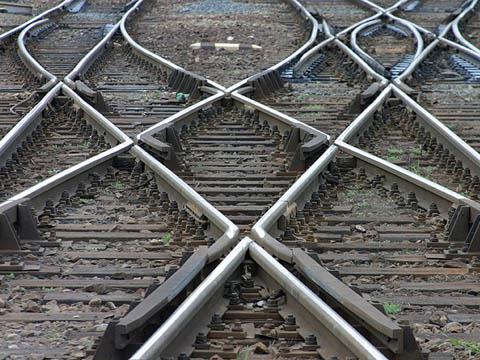 Marcroft Engineering has ordered from Powell Duffryn Rail 40 'track-friendly' TF25 bogies. They will be placed under wagons being supplied by Marcroft to Nacco for lease to Mendip Rail, which will have a gross weight of 102 tonnes on four axles. Manufacture of the bogies has been entrusted to CKD in the Czech Republic.
PDR claims that the TF25 creates up to 60% less vertical dynamic forces than the commonly-used Y25 type at the maximum axleload of 25·5 tonnes. The TF series is still the only type for which Railtrack is prepared to grant a 10% discount on track access charges.
The prototype TF25 bogie displayed at Railtex has 840mm diameter wheels, and has been tested for use on Railtrack's network at 100 km/h at the full 25·5 tonne axleload. It has passed ride tests at 120 km/h unladen, and will be tested at that speed when loaded as soon as a suitable stretch of track can be identified.
The Railpart Technical Dossier has been introduced as a single route map for the 1200 suppliers from which it purchases spare parts for the UK rail industry. An RTD explains all the documentation needed to support the definitive performance specification, and sets out clearly the design and performance requirements of the product as well as quality and safety specifications. Railpart holds nearly 50000 products in stock in Doncaster, and distributes them daily to depots throughout the country.
Siemens Transportation Systems released details of its generic Desiro EMU design which is aimed at meeting Britain's statutory requirement to replace Mk I bodied rolling stock by the end of 2002. With at least 50% of axles powered, the train is a modular design with traction packages for 25 kV AC, 750V DC or dual-voltage versions. Two, three or four-car sets are envisaged. The company is supplying Desiro units to Germany, Greece and Slovenia, and said that a version to fit the British loading gauge 'could be in service by autumn 2001'. Cost of a four-car set is likely to be around £3·3m.
Ascom launched a slimline access control gate for stations with restricted space (below right). Developed in association with Klein, the gates are a thinner version of those with sliding glass panels recently installed at Portsmouth and Southampton. On both designs the reader mechanisms and backplates can be lifted out and changed swiftly, ensuring minimal downtime. The gates work with magnetic stripe tickets or contactless smart cards. Fraudulent access is prevented by up to 15 hidden infra-red detection photocells.
Cummins Engine Co Ltd gave details at Railtex of its latest engine orders. These include a pair of uprated QST30 engines with electronic control for a second SYZ25DD double-deck trainset for Nanchang Rail Bureau in China.
The company is supplying 70 of its N14E-R Celect engines for Alstom's Coradia Class 175 DMUs for First North Western. The six-cylinder 450hp engines meet the latest European emissions standards.
Also in the diesel engine market, LH Group Services announced that it had entered a partnership with MAN to provide support services for that company's diesel engines in Britain. LH also offers repair packages for transmissions and final drives.
Testing in Italy of the Roger 1000 track and catenary recording car built by Mer Mec for Norwegian National Rail Administration (RG 3.98 p169) was expected to begin shortly, with delivery to Norway scheduled for March. Based on the ETR500 bodyshell, it is capable of operating at speeds up to 200 km/h in temperatures as low as -40° C. Under its first contract awarded by an Asian operator, Mer Mec has delivered two overhead line maintenance vehicles to Mass Transit Railway Corp of Hong Kong.
Specialising in wheelset presses and testing and lifting equipment, BBM is delivering three stands for testing high speed train bogies to Italian State Railways. Compressing the bogie springs to simulate loads, the benches are being installed at FS depots in Milano and Bologna. BBM has supplied five systems to FS workshops for grinding the rotors of traction motors without removing them from the bogie, and is developing with the operator a trolley-mounted ultrasonic system for examining wheels in situ. A contract to supply two RD2000/CNC portal lathes to FS for reprofiling wheelsets has recently been won by SAFOP.