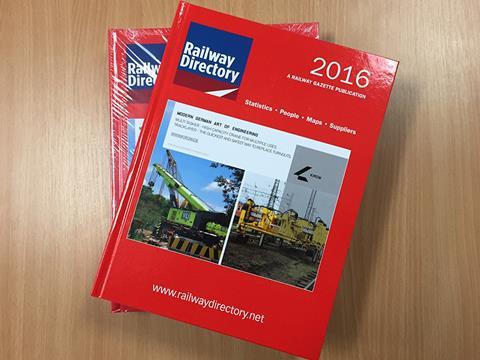 INTERNATIONAL: Running to more than 800 pages, the 121st edition of Railway Directory provides a comprehensive overview of the world's railway industry in a single book, which is widely acknowledged as an indispensable source of information.
Fully updated and expanded, the 2016 issue includes details of more than 22000 industry professionals as well as information and contact details for over 5000 organisations across every part of the rail sector.
Separate sections list government and regulatory bodies and industry associations for each country as well as international bodies. There are listings for more than 1600 railways, train operators and infrastructure managers plus a further 550 for urban rail operators in the metro and light rail sectors.
More than 180 full-colour maps provide an overview of the rail networks in every country and many of the major cities.
Arranged by product category and geographical region, the buyers' guide includes entries for more than 2300 manufacturers, suppliers and consultants. Entries are grouped into six main categories: rolling stock, components, traction & control, infrastructure, data & information systems, and consultants & support services.
Railway Directory 2016 can be ordered from the online shop at www.railwaygazette.com for €490 including postage. A package including both the book and a year's access to the regularly-updated online version at www.railwaydirectory.net is priced at €640 including postage (plus VAT where applicable). A web-only subscription is also available for €530 plus VAT.
ISBN 978-0-9557740-8-9