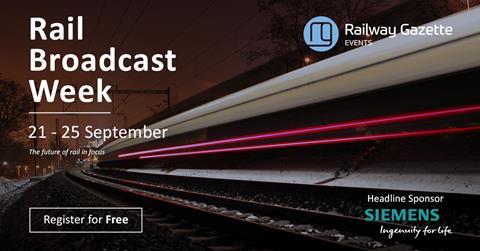 INTERNATIONAL: The inaugural Rail Broadcast Week will take place online from September 21 to 25 2020, hosted by the Railway Gazette Group.
Supported by headline sponsor Siemens Mobility, Rail Broadcast Week offers an unrivalled opportunity to understand the opportunities and challenges facing the global railway sector in an age of pandemic, with an extensive programme of free-to-view live discussions and business-critical insights, streamed using the well-established Wavecast interactive technology.
Global thought leadership
Rail Broadcast Week will be anchored by a series of keynote panel discussions, moderated by Railway Gazette Group's authoritative and independent editorial team. Starting on September 21 with a debate examining the immediate and medium-term impact of Covid-19, these sessions will also address Innovation in Rail Freight, Smart Infrastructure and the Future of Passenger Rail.
Reflecting Railway Gazette International's market-leading editorial coverage of more than 140 countries, the panels will bring together a range of industry-leading speakers from around the world, including panellists from Europe, North America, India and South Africa.
Confirmed speakers include:
Elisabeth Werner, Land Transport Director, DG Move, European Commission;
Marc Guigon, Head of Passenger Rail, International Union of Railways;
William Dachs, Chief Executive, Gautrain Management Agency;
Maggie Simpson, Executive Director, Rail Freight Group (UK).
Reflecting the urgent need to develop a new generation of skilled staff, Rail Broadcast Week is being supported by UK networking association Young Rail Professionals, whose members will be participating in several of the discussions.
Further speakers will be confirmed in the coming weeks.
Innovation in focus
Rail Broadcast Week will also feature a series of technology-focused sessions hosted by our commercial partners.
These will typically focus on a specific technological or operational challenge facing the rail sector, with presentations outlining options for future efficiency gains and operational enhancements.
Among the confirmed presenters are telecoms specialist Nokia and infrastructure technology companies Voestalpine and Pandrol.
As with all the other sessions, each case study will be broadcast via the live interactive platform, enabling registered viewers to put their questions to the speakers in real time.
'We are delighted to launch Rail Broadcast Week after many weeks of preparation', commented Nick Kingsley, Managing Editor of Railway Gazette International. 'While the global rail sector is currently facing a period of severe uncertainty, the long-term future is bright. Railways have a clear role in supporting sustainable travel, skilled jobs and balanced economic development. Rail Broadcast Week provides an unprecedented opportunity to explore this potential in detail, and we believe that it will be a must-watch for rail professionals globally.'
Read more about Rail Broadcast Week