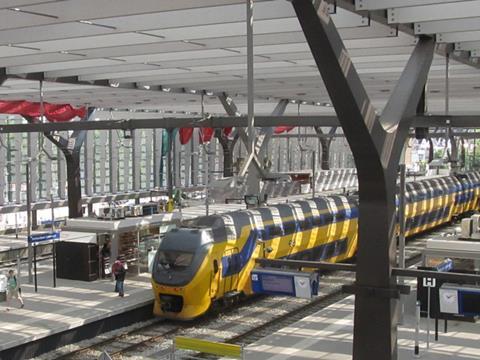 In response to public and political concerns about tax avoidance, Dutch national passenger operator NS is to order all its future rolling stock through a Dutch-registered company, rather than its NS Financial Services business based in Ireland. Existing rolling stock will be transferred to Dutch ownership, with the aim of 90% having been transferred by 2024.
PKP Cargo has consolidated its Trade Trans, Cargosped and own-brand freight forwarding activities under the Trade Trans name, with all rolling stock merged into the PKP Cargo fleet.
Following final regulatory approval for Brazilian freight operator América Latina Logística SA to be merged into Rumo Logística Operadora Multimodal, March 31 was the last trading session for shares in ALL on the São Paulo stock exchange. At a ratio of 2·88 Rumo shares for each common share, Rumo has issued 1·96 billion shares to ALL shareholders, representing 65·67% of equity in Rumo.
The US Federal Railroad Administration and the Pipeline & Hazardous Materials Safety Administration have announced a further 'package of targeted actions' to decrease the risk of crude oil and ethanol transport by rail across the USA. Measures include an instruction to the Association of American Railroads to develop an information process whereby key train data is made available to all responders within 90 min of first contact with an accident investigator, and a speed restriction limiting heavily-loaded tank trains to 64 km/h in 'high threat urban areas'.
India's Western Railway is undertaking trials with guard-controlled automatic doors on an EMU used on the notoriously overcrowded Mumbai suburban network, where EMUs often run with doors open. The train can only start once the doors are shut, and doors can only be opened once it has stopped. Opening/closing time is 2 to 2½ sec.