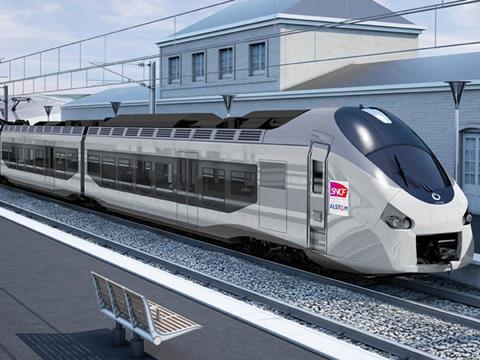 FRANCE: A framework contract for the supply of up to 1 000 low-floor trainsets to operate regional services was signed in Paris on October 27 by SNCF President Guillaume Pepy and the President of Alstom Transport Philippe Mellier. Within the overall package, orders were confirmed for an initial build of 100 trains which will be delivered from 2013.
At a ceremony for regional representatives and invited guests, Pepy emphasised that he was signing the deal on behalf of the Association des Régions de France, a consortium of regional authorities led by Martin Malvey, President of Midi-Pyrénées. SNCF had been co-ordinating a joint tender for the regions over the past two years, he explained, but the individual regions will specify and procure the trains to meet their own requirements.
Dubbed Régiolis by Pepy, the articulated TER trainsets are designated Coradia Polyvalent by Alstom. The design is derived from the Coradia Nordic and Coradia Continental families, but adapted to meet French specifications. As well as a high degree of modularity, they will have permanent-magnet motors offering a saving of up to 20% in energy use, according to Mellier.
The base design is a dual-voltage EMU for 1∙5 kV DC and 25 kV 50 Hz operation; two other options add 15 kV AC or a diesel hybrid using small roof-mounted engines. Régiolis will be available in three standard lengths - 56 m (three-car), 72 m (four-car) or 110 m (six-car) - with interior configurations to suit suburban, regional or inter-city duties. The suburban option can also be offered with two doorways per car side, as with the Coradia Continental Class 440 units in Germany.
The initial order for 100 sets is valued at €800m, with the total contract potentially worth more than €7bn over 10 years; Mellier said he was confident that all the options would be taken up, and 'maybe more'. Further orders for 35 sets are expected shortly, and discussions have started for another 20.
Of the first 135 trains, 25 are destined for Midi-Pyrénées, 22 for Alsace and 22 for Aquitaine. Basse-Normandie is taking 18, Picardie 17, Pays-de-la-Loire 15, Haute-Normandie eight and Lorraine eight. Mellier said around 60% would be diesel hybrids and the rest dual-system electric. Almost all length, interior and traction configurations are covered, he reported, except for the six-car EMU.
With up to 1 000 trains to be built over 10 years, the framework contract is expected to safeguard 3 000 jobs at Alstom's French factories. The trains will be assembled at the former De Dietrich plant in Reichshoffen, with bogies from Le Creusot, electrical equipment from Ornans and Tarbes, and on-board computers from Villeurbanne.