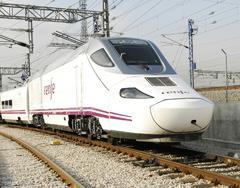 SPAIN: On July 17 a consortium of Bombardier and Talgo announced it had been awarded a 14-year contract to maintain 45 S-130 high speed trainsets which the companies supplied to RENFE.
The contract runs to 2022, with Bombardier valuing its share at €128m. The work will be undertaken at RENFE's Santa Catalina and Fuencarral depots in Madrid.
The S-130 trainsets have a design speed of 250 km/h. They are equipped with gauge-changing wheelsets enabling them to operate on the standard-gauge high speed lines electrified at 25 kV, and also on 1 668 mm gauge routes electrified at 3 kV DC.