SPAIN: The RENFE board has selected CAF to supply 37 metre-gauge trains for its former FEVE routes under a contract worth €258m.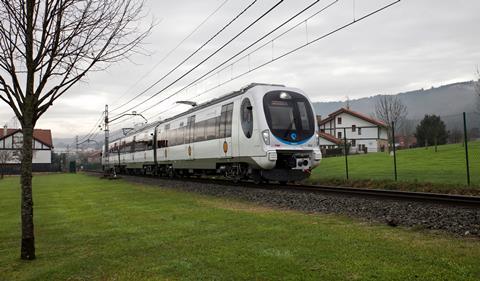 The contract announced on June 29 includes a 15-year fleet maintenance agreement, to be provided through a joint venture of CAF and RENFE Fabricación y Mantenimiento.
The order comprises 10 two-car and 16 three-car EMUs with a maximum speed of 100 km/h; five electro-diesel trainsets; and six EMUs of a bespoke design for use on the steeply graded Line C9 of the Madrid Cercanías network between Cercedilla and Los Cotos in the Sierra de Guadarrama. The EMUs will also be equipped with 'last mile' batteries as a safeguard against power failures on electrified lines.
The main fleet of 31 trains will be used mostly on former FEVE lines in northwest Spain, with 10 of the EMUs to be allocated to local services in Asturias. Their delivery will reduce the average age of the metre gauge passenger fleet from 28 to 15 years.
The contract includes an option for CAF to supply six more EMUs and one more bi-mode trainset.