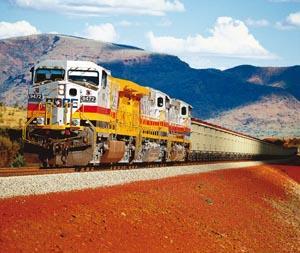 AUSTRALIA: Driverless trains will be operating on Rio Tinto's Pilbara heavy haul iron ore railway in Western Australia within five years, the mining company announced on June 16.
The first automation trials began in early 2007, initially using segregated tracks at 7 Mile Yard. Following the successful completion of 126 trips with empty and loaded trains on a section of the main line between Paraburdoo and Tom Price, the go-ahead has now been given for a US$371m project which will see driverless trains operating on most of the 1 300 km network.
Automatic operation is firmly established in the metro sector, but the Pilbara project will be the first time it has been used on a heavy haul railway of this scale. There are 320 train journeys on the company's Pilbara network in a typical week, with a train movement along the line every 25 min and an average train cycle time of 33 h.
The roll-out of automation is part of a wider upgrading project to handle 320 million tonnes of ore a year by 2012. This includes the acquisition of 40 locomotives, extensive re-railing and the purchase of 2 400 wagons.
Automated operations will be integrated with the existing train management system, which Rio Tinto says will bring efficiency gains through greater scheduling flexibility and the removal of delays.
Each train currently has a single driver, but Rio Tinto Iron Ore CEO Sam Walsh said in March that skilled drivers were in short supply. Following the announcement of the automation programme, Walsh said that 'while some roles may change due to expansion plans, current employee numbers will not be reduced by the automation of most rail operations.'
Additional safety systems are being developed ready for automatic operation, including the upgrading of level crossings to 'well above the standards required by legislation.'
'Automation of our rail network is an important step', said Chief Executive Tom Albanese. 'This innovation will allow us to deliver more tonnes, faster to meet the continuing surge in demand for iron ore from China and other emerging economies.'
Typical Rio Tinto Pilbara train
Loaded weight 30 000 tonnes
Length 2·4 km
Top speed 75 km/h