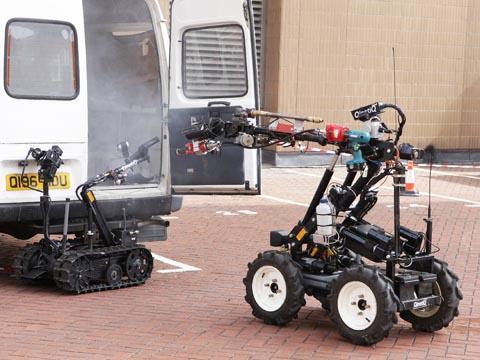 FIRE FIGHTING: UK defence technology company QinetiQ has been awarded a contract to provide remotely-operated vehicles able to enter unsafe environments to search for acetylene gas cylinders at fire sites near rail routes in London.
The initiative aims to reduce the disruption to services caused by the imposition of 200 m exclusion zones when there is a risk of exploding gas cylinders.
In April 2007 a warehouse fire prompted the suspension of rail services into a number of London termini, causing massive disruption. This led to trials with the fire-fighting robots in 2008, during which QinetiQ responded to 17 incidents and reduced the average duration of exclusion zones being imposed from 19 h to less than 3 h.
As a result, Transport for London, the Highways Agency and UK infrastructure manager Network Rail are funding an initial two-year contract for QinetiQ to operate the ROVs for the London Fire Brigade.
'Anything we can do to reduce travel delays for passengers is high on our list of priorities and so is overall safety', said Robin Gisby, Network Rail's Director of Operations & Customer Services. 'The deployment of the ROVs will give us more options for faster resolution of incidents and hopefully lead to less disruption to train services
Remotely-operated vehicles
Talon: Small, highly-manoeuvrable tracked vehicle used for bomb disposal. Equipped with a video and thermal image cameras.
Black Max: Equipped with a video camera and able to use a water hose to cool cylinders.
Brokk 90: digger vehicle designed to remove debris.