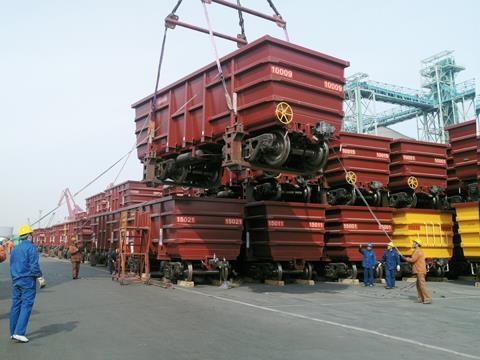 Bangladesh: Trelleborg Industrial has won a third contract to supply rubber-metal suspension components for the refurbishment of 20-year old wagon bogies.
Brazil: Timken has been awarded a long-term contract to provide an on-site bearing reconditioning service for América Latina Logística at its Sorocaba works.
Canada: Agricultural products firm Viterra has acquired a 1 400 hp National Railway Equipment Co NViroMotive genset locomotive for shunting at its Pacific grain terminal in Vancouver.
China: On April 7 China Northern was awarded a contract to supply 720 type C80B(H) stainless steel coal wagons with 25 tonne axleloads for the Datong - Qinhuangdao line.
Europe: With effect from April 28, PKP Cargo EU43 Traxx locos began operating through freight trains between Poznan and Seddin yard in Brandenburg. Removing loco changes halves the border transit time to 1 h. Crew changes will be eliminated on the route from 2009.
Germany: DB has awarded Alstom a €14m contract to install Atlas ETCS equipment on 10 ICE3 high speed trainsets for use in Germany, France, Belgium and the Netherlands. It will initially run alongside the trains' nine existing onboard systems before replacing them.
Hungary: MÁV Trakció has signed a five-year deal to provide traction for freight trains run by private operator Central European Railway.
Japan: To test the movement of lorry trailers by rail, Shiga Transport Co has purchased a demonstration set of RoadRailer intermodal equipment from US firm Wabash National Corp.
Lithuania: LG has awarded Czech firm CZ Loko a €6·5m contract to rebuild a further nine CME3 Co-Co locos, with new bodies and Caterpillar 3512B DI-TA engines. A €3·7m contract covering five locos was completed in April. ?Final assembly is in Vilnius under CZ Loko supervision.
Luxembourg: ArcelorMittal has awarded TransWagon of Bulgaria a contract to supply 540 flat wagons.
Mauritania: Eight 1 200 hp EMD GPL15T locos have been imported by mining firm SNIM for use on its 717 km line between iron ore mines at Zouérate and the port of Nouadhibou. Customisation for desert conditions includes air-operated ploughs to clear sand from the rails.
Spain: CAF is undertaking a programme of reliability improvements to RENFE's Class 594 DMU fleet, including improved engine cooling and the installation of new compressors. Interiors are being refurbished at the same time.
Sweden: Hector Rail has bought a ninth Class 1142 electric locomotive from Austrian Federal Railways. It will be leased to infrastructure manager Banverket for testing ETCS Level 2 on the 190 km Botniabanan, without first being equipped with Swedish signalling equipment.
UK: Bombardier Electrostar EMUs operated by Southern began using regenerative braking on the Brighton - Seaford route on May 9. The London - Brighton line will be next, and Southern and its sister Govia franchise Southeastern plan to roll out regenerative braking across their 750 V DC third-rail networks over the coming months.
USA: Hyundai Rotem's US subsidiary is to supply Massachusetts Bay Transportation Authority with 75 double-deck commuter coaches in 2010-12 under a $190·2m contract.
<at></at>