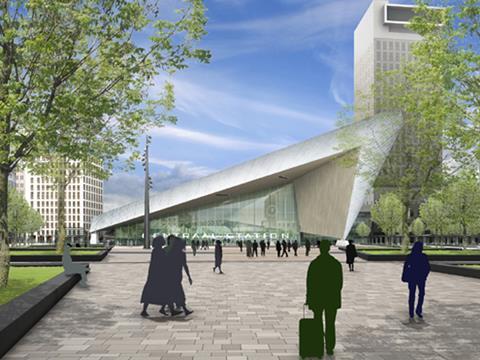 NETHERLANDS: Work has begun to transform Rotterdam Centraal station, with the aim of creating a showpiece facility equalling major stations in Paris, Madrid and London. The completion of Randstadrail and HSL Zuid is expected to lead to a tripling of traffic to 323 000 passengers a day by 2025, requiring expansion and rebuilding of the station which also aims to tie it more closely into the urban environment.
Infrastructure manager ProRail is responsible for the railway aspects of the project, and signed a €135m contract for construction work with TBI Infra on July 15. The scheme is being managed by Team CS, a joint venture of urban design specialist West 8 and architects Benthem Crouwel and Meyer & Van Schooten. Arcadis is acting as consultant.
The city authority is responsible for the station buildings, and will award a contract for construction later this year. The design must take into account different urban environments north and south of the railway, and will also incorporate photovoltaic cells in the roof to generate electrici ty.
'The start of construction of the terminal is not only an important milestone for Rotterdam, but for the whole of the Netherlands', said city councillor Hans Vervat. 'Within three years, the vicinity of Centraal station and the Central District Rotterdam will be one of the three most accessible locations in the Netherlands and one of the most attractive international places to live.'
ProRail and the Ministry of Transport have undertaken a review of planned infrastructure projects to identify those which can be brought forward to boost the economy, and as a result expect to award additional contracts worth €140m over the next three years.