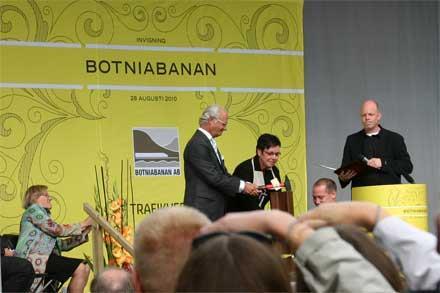 SWEDEN: A ceremony in Kramfors on August 28 attended by King Carl XVI Gustaf marked the start of a rolling inauguration of the Botniabanan in northeast Sweden. A royal train then left for Örnsköldsvik and Nordmaling, where further celebrations were held, before it reached Umeå in the evening.
Revenue passenger services began on August 30, although initially trains are only operating on the section between Örnsköldsvik and Umeå pending the completion of upgrading work on the Ådalsbanan, the route which connects the southern end of the Botniabanan to Sundsvall. Through services between Sundsvall and Umeå are expected to begin in August 2011.
Passenger services are operated on behalf of regional transport authority Norrtåg by Botniatåg, a joint venture of DB Regio Sverige and national operator SJ. Botniatåg is leasing 11 four-car Alstom Coradia Nordic EMUs from leasing company Transitio to operate an initial service of five daily round trips from Örnsköldsvik to Umeå at a maximum speed of 180 km/h.
A detailed preview of the opening of the Botniabanan was published in the August 2010 issue of Railway Gazette International.