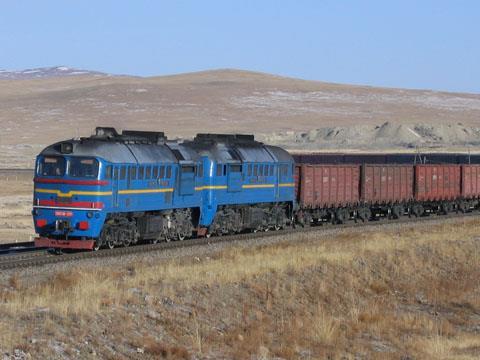 MONGOLIA: Russian Railways took control of 50% of the shares of Ulaanbaatar Railway (UBTZ) on August 25, when President Dmitry Medvedev signed a decree transferring the Russian government's stake in UBTZ for five years.
This follows a May 13 agreement that the Mongolian rail network will be managed by Infrastructure Development, a newly-formed company owned jointly by RZD (50%) state mineral company Erdenes MGL (25%), and the former Mongolian national railway (25%).
On the same day as the share transfer, RZD President Vladimir Yakunin presented development plans to V Otgondemberelu, head of UBTZ, and Z Bat-Erdene, Mongolia's Minister of Transport, Roads, Construction & City Planning.
Mongolia's national railway company was established in 1949 under an agreement with the USSR which gave each country an equal stake. The 1 815 route-km broad gauge network now carries 60% of freight in the country, but according to RZD more than 70% of the 2 500 wagons and 50% of the track needs replacing.
Yakunin said investment could reach US$6·5bn, with US$2·2bn for infrastructure modernisation, US$0·4bn for rolling stock renewal and US$3·9bn for the construction of lines from Dzüünbayan to Dalanzadgad and Saynshand to Bayantumen (Choybalsan). The aim is to exploit natural resources in the southern Gobi region and develop transit traffic between Russia and China.
'RZD has already started work on the development of UBTZ', said Yakunin. 'We are giving practical help on repairing tracks, renewing rolling stock and improving technology.' RZD has supplied 1 350 wagons to Mongolia since 2007, and a lease for 10 locomotives was signed in July.