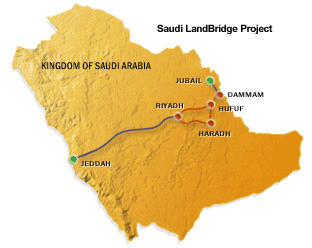 SAUDI ARABIA: Discussions which are now underway regarding the possible transfer of management oversight of the delayed Saudi Landbridge project could see the 945 km Riyadh - Jeddah line built by the public sector.
The project is currently being managed by Saudi Railways Organisation, which runs the existing railway between Riyadh and Dammam. This would form part of the Landbridge route linking the port of Jeddah on the Red Sea with the industrial city of Jubail on the Gulf coast.
Launched in 2005, the Saudi Landbridge was envisaged as a private finance initiative using a 50-year DBOM concession. A preferred bidder for a US$5bn PFI deal was named in April 2008, but failed to reach financial close in the deteriorating economic climate. A different consortium was reportedly selected earlier this year, but the contract is still awaiting approval by the Ministry of Finance.
The government is now considering whether to transfer responsibility for the Landbridge from SRO to the Saudi Railway Company (SAR), which was established in 2006 as a wholly-owned subsidiary of the Ministry's Public Investment Fund. SAR is responsible for overseeing the construction of the 2 400 route-km North-South Railway, which is being financed by PIF.
A transfer would open up the possibility that the Landbridge could also be financed by the public sector, reflecting recent changes to the financing of other infrastructure projects in the country. SAR would award separate contracts for civil engineering work, railway infrastructure equipment and rolling stock, as it has done for the NSR, followed perhaps by some form of operating contract or concession.