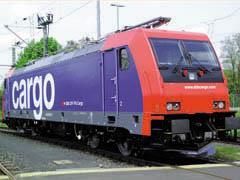 SWITZERLAND: Swiss Federal Railways has abandoned plans to team up with another operator in an attempt to strengthen its freight business. Announcing this on December 17, SBB said that SBB Cargo will continue to operate independently, although it will look for opportunities to co-operate with other organisations to develop international intermodal traffic as well as its domestic and cross-border wagonload services.
Decisions on the future direction of freight strategy will be taken 'early in 2010', while negotiations with potential partners will continue.
The recession had led to a 'massive' loss of freight business on all Europe's railways, and this had made efforts to improve the profitability of SBB's own freight operation more difficult, SBB said. Negotiations with DB and SNCF had shown that taking a 49% stake in SBB Cargo was 'not an option in current circumstances', with neither railway submitting formal offers. SBB noted that the objectives set out at the start of the search for a partnership with larger railways 'cannot be met at the moment'.
Since SBB Cargo began its search for a partner in September 2008 it has emphasised that continuing as an independent operator would always remain an option. Only if a partnership would yield better results and secure the organisation's long-term future would a deal be signed. Seven organisations were shortlisted for further negotiations in April 2009.