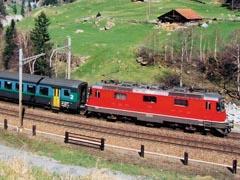 UP TO 180 trains a day are now running at 200 km/h on Swiss metals thanks to the introduction of cab signalling with ETCS Level 2 on the new line between Mattstetten and Rothrist.
Swiss Federal Railways had intended to operate at 200 km/h with Level 2 when the 45 km line opened in December 2004, but because of late delivery of equipment, it decided in September 2003 to postpone the introduction of ETCS and limit speeds on the new line to 160 km/h. ETCS testing continued until July 2006 with service trains relying on conventional lineside signalling. From that date a few trains were authorised to run with Level 2 in commercial service, and SBB then gradually stepped up the number of ETCS-controlled services, although speed remained limited to 160 km/h. Only on July 29 this year were trains authorised to run at 200 km/h in commercial service.
After 10 days SBB was satisfied that all was well, and the 200 km/h maximum became permanent. For the moment it applies to eastbound trains only, although westbound services may run at 200 km/h to make up time. Passengers will notice little change – only with the next timetable on December 9 will up to 3 min be shaved off Bern – Zürich schedules to achieve the original target timing of 56 min.