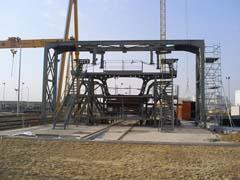 BENAIM: Scott Wilson announced on July 24 that it had acquired civil, structural and geotechnical consultancy Benaim in a cash and shares deal worth up to £5·5m.
The companies have worked together on projects including the East London Line Extension and Malaysia's KLIA Express airport rail link. Significant recent projects which Benaim has been involved with include stations and viaducts for the Dubai metro, MTR's Nam Cheong station in Hong Kong and the high speed line in Taiwan.
Founded in 1980, Benaim has operations in the UK and Hong Kong. It reported consolidated revenues of £5·56m for the year to September 30 2007 , with a pre-tax profit of £1·1m.
'In addition to their strong geotechnical and civil skills and the benefits these bring for the metro market, Benaim also bring considerable expertise in major bridges for both road and rail, which will further strengthen our strong presence in these sectors' said Scott Wilson Executive Chairman Geoff French.