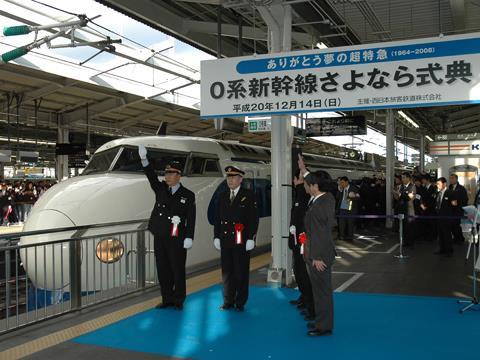 JAPAN: JR West ran a special train from Shin-Osaka to Hakata on Dec­ember 14, to commemorate the withdrawal of the last Series 0 trainsets from revenue service.
As the design which inaugurated the world's first dedicated high speed railway in October 1964, the 220 km/h Series 0 has become synonymous the world over with the 'Bullet Train' concept.
More than 3 200 Series 0 cars were built between 1963 and 1986, operating on the original Tokaido Shinkansen in 12-car and later 16-car formations. Their sphere of operation expanded as the Sanyo Shinkansen opened in the 1970s and 1980s. Most cars were withdrawn after an average service life of around 15 years, and several have already found their way into museums as far apart as Tokyo and York.
Bumped off front-line services by subsequent generations, including Series 100, 300, 500 and 700, the remaining Series 0 trainsets moved westward to find a home on the Sanyo Shinkansen, where JR West used them on Kodama stopping services between Shin-Osaka and Hakata. The final six 6-car trainsets were replaced from Nov­ember 30 by eight-car Series 500 sets which had in their turn been displaced from the premier Nozomi services by tilting Series N700 units.
Operating as Hikari 347, unit R61 reached Hakata at 18:01, bringing the Series 0's distinguished career to a close after 44 years.