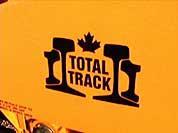 CANADA: Sersa Group has acquired a 68% stake in Ontario-based Total Track, which undertakes track construction and maintenance work in Ontario and Québec.
The companies have previously co-operated on various projects, and Swiss-based Sersa Group said it believes the acquisition 'is an important milestone for its further development in the Canadian market.'
Tim Mann, former CEO and owner of Total Track Ltd remains a shareholder and becomes President of the company. Marko Pohlmann who was previously Manager, International Markets, at SWT Sersa Welding Team in Berlin, becomes Chief Executive of the Canadian business.