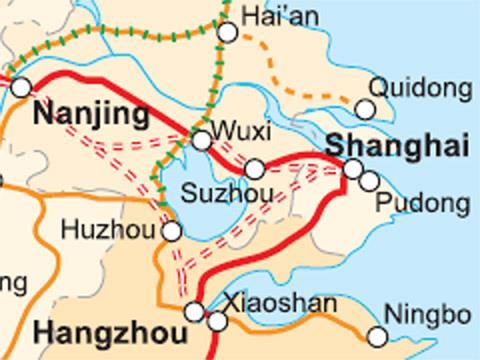 CHINA: A groundbreaking ceremony in Shanghai on February 26 marked the formal start of construction works on a 160 km passenger dedicated line which will halve journey times between Shanghai and Hangzhou to 38 min from 2011.
The line forms one side of a triangular high speed network which is being developed to give journey times of less than 2 h between Shanghai, Hangzhou and Nanjing and significantly increase capacity in the Yangtze delta region.
Work began last July on the 300 km Shanghai - Nanjing line, and construction is also underway on the 251 km direct link between Nanjing and Hangzhou.
The Shanghai - Hangzhou line will have nine stations, and is being designed for speeds of up to 350 km/h. It is being built by Zhejiang Provincial Railway Investment Group at a cost of 29·7bn yuan, with funding from the Ministry of Railways, the Shanghai and Zhejiang provincial governments and Baosteel Group, which has an 8% stake.
Around 80 million passenger-journeys are year are expected, and Yu Jian'er, General Manager of Zhejiang Provincial Railway, told local media the railway could be listed on the stock market subject to government approval.
Construction of the 731 km Chengdu - Lanzhou line through Sichuan and Gansu provinces was launched on February 21, and is expected to be completed by 2014 at a cost of 62bn yuan. China Railway Construction Corp has been awarded a 7·6bn yuan contract for construction works on the Nanning - Guangzhou line, and contracts worth 11bn yuan for works between Xiaguanying and Guangyuan on the Lanzhou - Chongqing route.