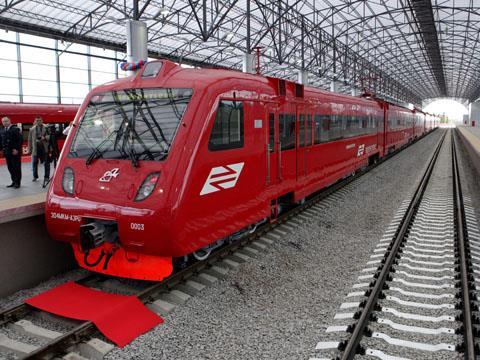 RUSSIA: The rail link to Sheremetyevo airport was extended to start from the more central Moscow Belorusskaya station on August 28.
Trains run every half-hour from 05.30 to 01.00. The journey takes 35 min with a stop at Savylovaky, which had been the city terminus since the service was launched in June 2008.
The trains are operated by RZD subsidiary Aeroexpress using air-conditioned ED4MKM electric multiple-units with onboard video screens and retention toilets. Aeroexpress also offers services from Paveletskaya station to Domodedovo airport, and Kievskaya station to Vnukovo airport.
'We finished the task of organising direct rail transport from the centre of Moscow to the city's three main airports a year ago,' said RZD President Vladimir Yakunin at the formal launch of the extended Sheremetyevo service on August 27. 'But we decided not to stop there. The opening of the link between Belorusskaya station and Sheremetyevo airport is one of the key steps in the development of the Moscow transport hub.'
Aeroexpress passengers can now buy Metro+ tickets which include onward travel on the Moscow metro.