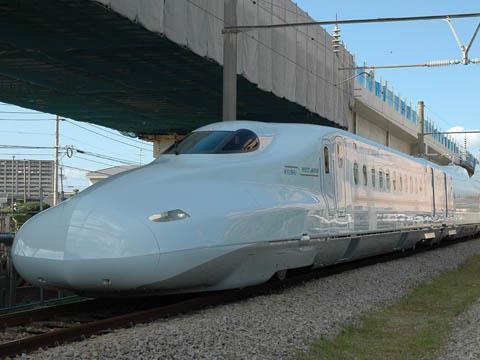 JAPAN: West Japan Railway and JR Kyushu have unveiled the first of 29 eight-car Shinkansen trainsets which will operate through services between Shin-Osaka and Kagoshima-Chuo when the second phase of the Kyushu Shinkansen has been completed. Unit S1 is expected to undergo extensive testing before the remainder of the fleet is delivered.
The 121·1 km northern section of the Kyushu Shinkansen between Shin Yatsushiro and Hakata is scheduled to open for revenue service in March 2011, completing an unbroken route of 1317·8 km from Tokyo Central. JR Kyushu will extend its currently-isolated service from Kagoshima to interchange with the Sanyo Shinkansen at Hakata, serving intermediate stations at Kumamoto, Shin Tamana, Omuta, Kurume and Tosu. These trains are currently operated by six-car Series 800 Tsubame sets designed for 285 km/h operation.
The two JR companies announced in October 2007 that they had agreed to order a fleet of new trains to work through services between the Sanyo and Kyushu lines. The Series N700-7000 is an eight-car derivative of the 16-car Series N700 sets used by JR West and JR Central on both the Sanyo and Tokaido Shinkansen. JR West is buying 19 trains, representing an investment of around ¥100bn, and JR Kyushu the remaining 10.
With all vehicles powered, the trains are designed for 300 km/h operation on the Sanyo section, although they do not have the passive tilting equipment fitted to the N700s used on the Tokaido line. Each unit will have seats for 546 passengers, including 24 in the Green Car.
Journey times from Shin-Osaka will be 3 h 20 min to Kumamoto and around 4 h to Kagoshima-Chuo, compared to the present fastest timing of 4 h 57 min with two changes using the 1067 mm gauge connecting service between Hakata and Shin-Yatsushiro.