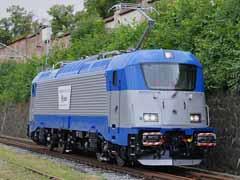 CZECH REPUBLIC: Skoda Transportation's Type 109E triple-voltage 200 km/h locomotives have begun trial operations, starting with No 380.007 which hauled a 100 km/h CD Cargo freight train from Plzen to Beroun on May 27.
Initial 160 km/h passenger operations are expected to begin on routes from Praha to Brno and Ústí nad Labem in August. Regular passenger services will begin in December, two years later than originally planned partly as a result of design changes needed to meet stricter TSI crashworthiness standards.
Skoda has now completed 17 of the 20 locomotives for CD; two more are on order for Slovak passenger operator ZSSK.