CZECH REPUBLIC: The unveiling at Skoda Transportation's Plzen plant of the first 200 km/h electric locomotive for CD marks a new start for the domestic loco manufacturing industry, reports Michal Málek.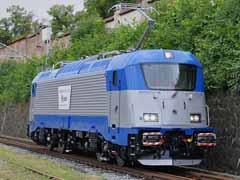 In a ceremony at Plzen on July 24, Skoda Transport­ation formally rolled out its long-awaited Type S109E electric locomotive for Czech Railways. The loco has been fully developed and manufactured by Skoda as the basis for its third generation of electric locomotives.
Styled by Porsche Design, the 109E is the first new main line electric loco design to emerge from the Skoda plant since 1994. It is the first Czech-built loco for 200 km/h operation, apart from the 12 Class ChS200 (Type 66E) locos built for Soviet Railways in 1975-79.
Tight secrecy had ensured that nobody had a chance to see the locomotive before its official presentation. Amid great celebrations, the blue-grey prototype was rolled out onto the factory's short test track for a demonstration run. After commissioning, it will be despatched to Berlin for its European debut at the InnoTrans fair.
The demonstrator is in fact the second of its class: CD number 380.002. Sister loco 380.001 is scheduled to start an acceptance programme this month on the test ring at Velim, where it will be worked up to 220 km/h.
The Type 109E continues Skoda's long tradition of electric locomotive manufacturing, which has seen more than 5 550 locos supplied to a dozen countries since 1927, principally for railways in the former Czechoslovakia and the Soviet Union. Production fell sharply after the collapse of the Comecon trade bloc in 1989 but has since recovered, with the company mainly concentrating on tram production. Type 109E indicates the company's re-emergence as a leading player in the main line rail sector.
European standards
According to Managing Director Tomás Krsek, the Type 109E meets all requirements of today's market, including strict European standards, which have developed very rapidly over the past few years. The structural design of the locomotive also meets specific local conditions for the railway networks of Central Europe, including operation on sinuous lines and meeting strict limits on electromagnetic interference limits. The traction control package permits regenerative braking on all three overhead supply voltages.
Production of the loco has been running slightly behind schedule, which Krsek says was caused by the need to modify the cab design to meet stricter TSI rules on bodyshell strength. The revised design ensures excellent crashworthiness, with the driver's cab protected by patented deformation zones to ensure maximum chance of crew survival in the event of a collision. The cab conforms to the latest ergonomic standards and was developed in collaboration with loco driver's trade unions.
Static testing of the bodyshell and underframe in December 2006 saw the 109E become the first vehicle in Europe to meet the new TSI standards, according to the company. The design has now been formally approved by Germany's EBA.
Skoda has incorporated a number of design innovations in the 109E, which it says are protected by European patents. These include the use of modern materials such as fibre composites and a removable three-section aluminium-composite roof structure. The locomotive meets strict safety requirements in terms of fire prevention, with sensors and automatic extinguishers, whilst the partition between the driver's cab and the machine room has been tested to ensure a minimum 15 min fire resistance.
Other innovations contribute to a significant improvement in ride quality which should should reduce track wear. The loco is equipped with relieved-aluminium brake discs, like those used in modern racing cars.
Most components are of Czech manufacture, as Skoda has invited a number of domestic firms to collaborate on the project. These inc­lude electrical equipment from Lekov and MEZ Postrelmov, wheelsets from Bonatrans, brakes from Dako-CZ, suspension elements from HZP Prostejov and compressors from Atmos Chrást. Skoda Transportation's subsidiary companies Skoda Electric, Skoda Vagónka and VÚKV have also been heavily involved in the project.
Prototype to series build
Launch customer for the 109E is Czech Railways, which has ordered 20 locos designated Class 380. CD first called tenders for 200 km/h three-system electric locomotives in December 2002, but the project was cancelled for financial reasons in March 2003. A new call for bids was issued in December 2003, and the KC2·5bn order was formally placed with Skoda in April 2004 (RG 5.04 p250). The deal is mainly being funded through a credit from Eurofima.
The order marks CD's first acquisition of a completely new electric locomotive design for almost 20 years. When it was placed, the order was considered rather controversial, as CD gave preference to the domestic industry instead of buying a well-proven, certified and potentially cheaper design such as the Siemens Type ES64U4 Eurosprinter (ÖBB's Class 1116 and 1216 'Taurus' locos) or Bombardier's Traxx design.
Given the cost and time needed to obtain operating approval from both domestic and foreign authorities, the price of the Class 380 could be considered needlessly high. However, CD rejects such objections, insisting that the invitation to tender was completely standard. Approval and certification of the locos for use in the Czech Republic, Slovakia, Poland, Hungary, Austria and Germany will be Skoda's responsibility and the builder is also offering a complete maintenance and repair package to CD.
After commissioning and approval, the locos are due to enter regular revenue operation in December 2009, although the first locos are expected to appear on tests with passenger trains early next year. All of the loco­motives will be delivered by 2010.
The multi-purpose three-voltage locos are able to operate on 3 kV DC, 25 kV 50 Hz and 15 kV 16·7 Hz AC. At full speed, they can haul passenger trains weighing up to 450 tonnes on a 0·6 % gradient. CD expects to see the locos operating international services to six central European countries (all its neighbours plus Hungary). Their 200 km/h capability will only be needed on the foreign networks for now, as SZDC has no lines authorised for more than 160 km/h.
CD hopes its new locos will enable it to win a larger share of the international long-distance passenger business. It intends to put its new workhorses into service on its flagship EuroCity services from Praha to Berlin, Warszawa, Bratislava, Budapest and Wien. On the last three routes they will replace ZSR's Class 350 dual-voltage locos, also built by Skoda, which CD must currently lease as it has no 160 km/h locos of its own for 3 kV DC/25 kV AC operation.
From December this year services on the Praha – Wien route will be worked by ÖBB Class 1216.2 locos, which were formally approved by the Czech Railway Authority in June. CD has also been looking at leasing some of these locos from ÖBB to cover its share of the duties until the Class 380s are ready for full deployment.
Traction equipment
The Type 109E rides on a pair of two-axle fully-suspended bogies mounted in a welded underframe. Primary and secondary suspension uses Flexicoil helical springs. Each axle is powered by an air-cooled 1 600 kW ML4550 K/6 asynchronous three-phase traction motor from Škoda Electric, giving a total continuous rating of 6 400 kW. Final drive to the monobloc wheelsets is via a cardan shaft.
Electro-dynamic regenerative and rheostatic brakes are fitted, along with pneumatic and mechanical brakes from Knorr-Bremse. The required braking effort is electronically controlled by a central speed regulator, known as CRV. This was supplied by AZD Praha, along with the AVV multiple-unit control system which allows two locos to be driven from any cab or from a driving car in push-pull mode.
The overhead power supply is collected using two universal pantographs suitable for all three voltage systems. These are based on the type used on TGVs. Each of the two Type 1 MS-1 traction packs from Skoda Electric incorporates a four-quadrant converter, feeding a DC intermediate circuit, which in turn powers the two traction inverters. The water-cooled IGBT inverter modules are supplied by Infineon. The traction transformer supplied by ABB Sécheron can switch between 25 kV and 15 kV as required, and also powers the auxiliaries and train heating circuits. When operating under 3 kV DC, secondary traction cooling circuits are used as inductors for the line filter. The asynchronous three-phase auxiliaries are fed from the 570 V DC supply through inverters.
The locomotive is equipped with GSM-R radio and ETCS Level 2 on-board equipment. It also has equipment for use with the Czech (LS90), German and Austrian (PZB90/Indusi), Slovak (MIREL), Polish (SHP) and Hungarian (EVM120) train protection systems.
Export plans
In the domestic market, Skoda sees good potential for follow-up orders as CD starts to replace its ageing locomotive fleet. In the longer term, CD is also looking at the acquisition of a freight version of the Class 380.
Skoda also believes it can win orders for the 109E or a modified version in countries such as Slovakia, Poland or Hungary, where it must compete with the big international systems integrators. Skoda will also be targeting the countries of the former USSR, where it used to have a strong presence, with the suggestion of local production with suitable partners. The company confirmed that it had already received indications of interest in some form of collaboration.
Main characteristics of Type 109E (Class 380)
Gauge mm
1 435
Wheel arrangement
Bo-Bo
Power supply
3 kV DC
25 kV 50 Hz
15 kV 16·7 Hz
Length over buffers mm
18 000
Bogie wheelbase mm
2 500
Maximum width mm
3 080
Height with pantograph lowered mm
4 280
Weight tonnes
86
Maximum axleload tonnes
21·5
Continuous rating kW
6 400
One-hour rating kW
7 200
Brake rating rheostatic kW
regenerative kW
4 700
6 963
Wheel diameter new/worn mm
1 250/1 170
Starting tractive effort kN
275
Continuous tractive effort kN
213
Maximum electric braking effort kN
226
Maximum speed km/h
200
Minimum curve radius m
120