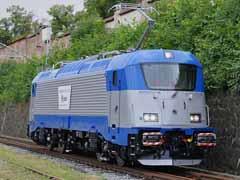 SLOVAKIA: National operator ZSSK has awarded Skoda Transportation the first export order for the 109E locomotive design which was unveiled last year. As well as two locomotives, the Czech firm will also supply 10 three-car double-deck push-pull trainsets and modernise 10 existing electric locomotives for Slovakia.
Contracts totalling €83m were signed on July 30. Skoda will built the locomotives in Plzen and the passenger cars at Ostrava-Vítkovice, for delivery by early 2013.
Two prototype 109E locomotives will shortly complete running trials at Velim. Modifications to the design for ZSSK will include a reduction in the top speed from 200 to 160 km/h. They will also be equipped to use ETCS on the Bratislava - Nové Mesto nad Váhom - Zilina corridor.
The push-pull coaches will be an unpowered version of Skoda's CityElefant EMU. They will have 362 seats from Borcad and space for 352 standees in a single class, with retention toilets, air-conditioning, CCTV and electronic information and diagnostic systems. Modernisation of the 10 Class 263 electric locomotives to work with the push-pull stock will be subcontracted to ZOS Zvolen.
ZSSK has called tenders to modernise 15 Class 162/163 3 kV DC locomotives as Class 361 dual-voltage machines as part of the conversion of DC lines in northern Slovakia to 25 kV 50 Hz.