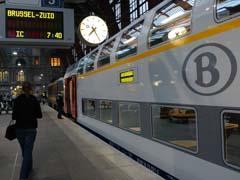 BELGIUM: Early last month La Libre Belgique published excerpts from an interim report drawn up by the Audit Commission (Cour des Comptes) which said Belgian National Railways had broken European rules on public financing.
Specifically, the newspaper highlighted a sum of €426m forming part of a €510m government grant intended to provide SNCB's operating arm with an increase in capital, but the money, according to the report, had been used for commercial purposes. The newspaper reported that €244·8m had been granted on an unsecured basis to boost the funding of commercial passenger services, and a further €181·2m had been provided to the freight business B-Cargo as an internal loan. When official requests were made for a breakdown of SNCB's accounts, they were either ignored or only partially answered, according to the newspaper.
The report also said that SNCB's financing arrangements contravened the management contract agreed with government for 2008-12, and that SNCB had failed to respect administrative procedures for investment agreed with the ?Directorate General of Land Transport.
La Libre Belgique concluded that SNCB's financial situation was precarious, suggesting that the commercial passenger business had only turned in positive figures in 2005-07 thanks to the use of state grants. The freight sector was in even more serious trouble, it said, and B-Cargo would be unlikely to survive under present conditions, not least because of debts amounting to €113·5m.
On September 16 the European Commission confirmed that it had received a complaint from the European Rail Freight Association about alleged cross-subsidies within SNCB, obliging the Commission to open an enquiry. On the following day SNCB issued a statement from Chief Executive Marc Descheemaecker refuting all the accusations. Descheemaecker explained that the €510m in question 'corrected something that had been forgotten. It was not a case of working capital being increased by money falling from the sky', but of putting in order the funding arrangements set up when SNCB was restructured in 2005. Provision had been made for funds to be transferred from the former SNCB to B-Cargo, but in practice the freight business had started out that year with no working capital, and this had subsequently been put right by the €500m grant. Descheemaecker told l'Echo that he was 'disappointed that some people had a short memory', referring to 'leaks organised by people whose agenda was obviously not to support SNCB'.
Descheemaecker went on to say that the interim report was in reality an exchange of information in the form of questions 'according to good practice and corporate governance' before the final report was completed in a few months' time, L'Echo reported. Asked to comment, SNCB told Railway Gazette International on September 18 that 'all the accusations are false', pointing out that Descheemaecker had said SNCB had all the documents necessary to prove its case.
Meanwhile, in response to accusations made by the EC in June that SNCB was not adhering to European rules, the Belgian government is to introduce legislation forbidding directors of infrastructure company Infrabel from sitting on the SNCB board.